Key Features:
'Life-proof' phone
Water and dust resistant
3.2in screen
600Mhz processor
3 megapixel camera
Android 2.3 (Gingerbread)
Price as reviewed: £150 (SIM-free)
Introduction
The Motorola Defy Mini is a small, 'life-proof' smartphone with a 3.2in display, 3 megapixel camera and runs Android 2.3 (Gingerbread).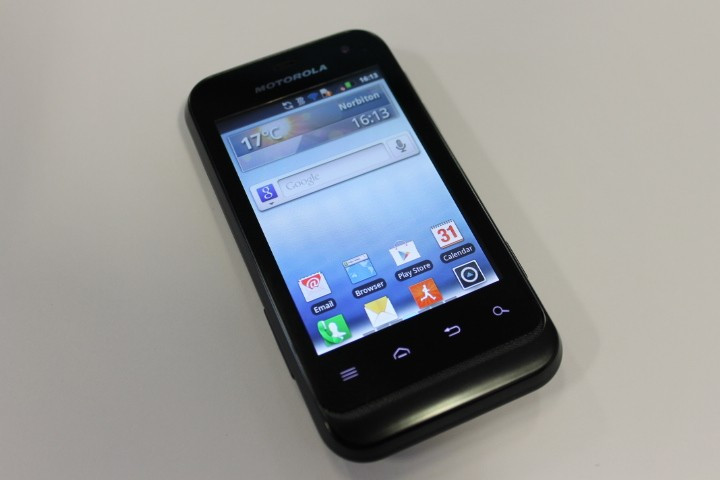 Following in the tracks of its bigger brother, the Defy+ which we reviewed last year, the Defy Mini carries the same 'life-proof' mantra by featuring a tough design, covered ports and claims of being both dust- and water-resistant. We spent a week with the Defy Mini to see how it faired.
Motorola Defy Mini: Design and Feel
Firstly, the clue is in the name; the Defy Mini is a small smartphone measuring just 109 x 58.5 x 12.5mm and weighing just 107g.
The screen, which has a resolution of 480 x 320, is protected by scratch-resistant Gorilla Glass and the rear cover is rubber-coated plastic. There are four capacitive buttons under the screen for Menu, Home, Back and Search, and below these there is a long, narrow speaker grill with the same mesh design found on the Motorola Motoluxe.
There's a VGA-quality camera in the upper-right corner for video calls and taking self portraits and, next to that, a proximity sensor to dim the screen when you are making a call.
Around the back you'll find a 3 megapixel camera with LED flash and a chrome switch to lock the rear cover in place. Ports include mini USB on the left-hand edge and a 3.5mm headphone jack on the top edge, both protected by sturdy plastic covers.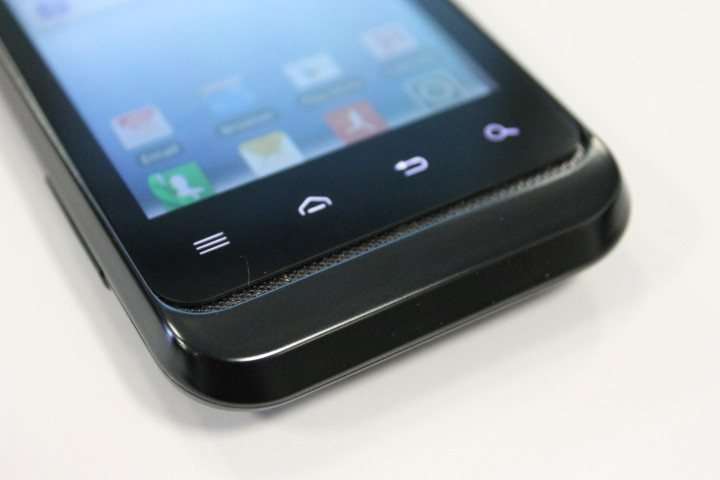 The power/lock button is next to the headphone jack up top, while there's a camera shutter button and volume up/down on the right-hand edge of teh Defy Mini. All of the buttons are very tightly integrated into the bezel to prevent dust and water getting in, which makes them sometimes difficult to press.
As the moniker of 'life-proof' suggests, the Defy Mini feels as well-built and tough as its older brother, and its diminutive size means the Defy Mini can easily be used in one hand.
The Defy Mini's water- and dust-resistance is great for peace-of-mind but it does mean that the ports and particularly the back cover are very hard to open - so much so that we were worried about damaging the rear cover every time we opened it. Admittedly, this isn't often, but it's still worth noting that it takes a bit of force.
When you do get the back cover open, it gives you access to the 1650mAh battery and underneath that is the SIM slot and microSD card slots.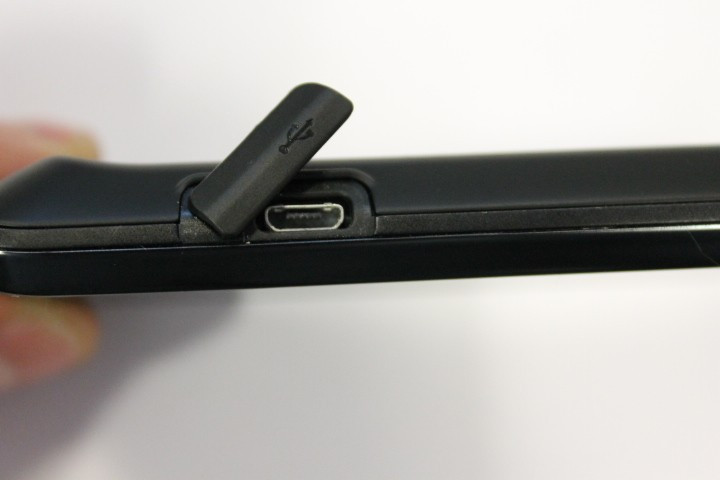 Motorola Defy Mini: Software and Performance
Appearing at the low end of the smartphone scale, the Motorola Defy Mini is priced at £150 SIM-free and is correspondingly powered by a small 600Mhz single-core processor with 512MB of RAM and just 512MB of internal storage - although that can be increased by up to 32GB, thanks to a microSD card slot under the battery.
With such a small processor, the Defy Mini is never going to rival larger smartphones, but at £150 that's hardly a surprise. The Mini handles itself well enough in day-to-day situations, but we found it to struggle with anything much more; it can play Angry Birds Space, for example, but the small screen isn't ideal for gaming and we got the feeling that the phone felt more comfortable browsing the web or social networking.
In terms of connectivity, there's Wi-Fi b/g/n and Bluetooth 2.1 with A2DP so you can pair the Defy Mini with wireless Bluetooth speakers or headphones.
The Defy Mini runs on Android 2.3 (Gingerbread) which - as Android 4.0 (Ice Cream Sandwich) becomes more widespread every day - is no longer the most up-to-date operating system.
The dated processor and an operating system that will never see a major update mean that we'd recommend the Defy Mini for someone just starting out in the smartphone world. Anyone looking for a cheap upgrade from their dinosaur of a feature phone will see this phone as a good move, but those already with a smartphone shouldn't see this as a phone to upgrade to. Also, the larger and faster Defy+ can be had for around £180 now.
On top of Android, the Motorola Defy Mini has some useful widgets like the Activity Graph and Social Graph, which each show your most used apps and the contacts you interact with the most in attractive coloured tiles.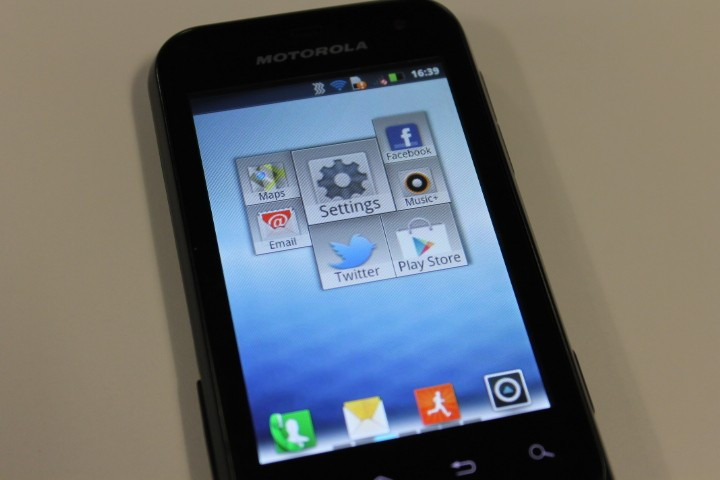 The Defy Mini's lock screen proved useful, showing upcoming calendar events, as well as a toggle switch to quickly turn the phone to silent, and swiping the unlock icon to the left instead of right opens the camera application.
During our week of living with the Motorola Defy Mini we found call quality to be good, with a loud earpiece and the mic meant we could be heard clearly. A problem we encountered was that the phone struggled to cope when signal was patchy, such as at IBTimes Towers.
On one occasion the phone lost signal and failed to regain it once we went outside. The phone still didn't have any signal the following day and it took a reboot to restore service, fixing the problem and greeting us with our missed calls and messages.
Motorola Defy Mini: Camera, Music, Battery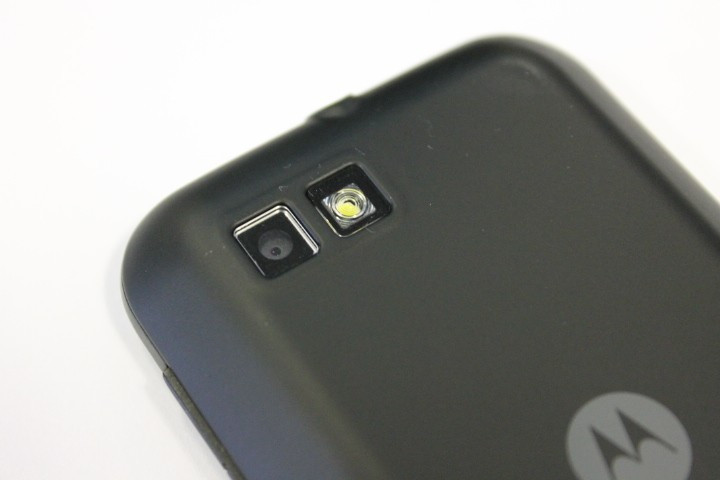 Motorola has given the Defy Mini a 3 megapixel camera on the back and a VGA-quality camera on the front for self portraits and video calls. The rear camera can be quickly accessed by either swiping to the left on the lock screen, or by pressing the dedicated physical shutter button when the phone is unlocked.
Photos can be shot at 1-, 2- or 3 megapixel sensitivity and there's a good range of settings, including exposure adjustment, night mode and seven different effects. White balance can be adjusted and there's up to 4x digital zoom but, with just three megapixels to play with, any zooming dramatically reduces picture quality. We've included some images taken with the Defy Mini at the end of this review.
The Defy Mini comes with the Music+ application, which is a step up from the standard Music app, and offers music playback, as well as SoundHound integration to look up a song by recording an extract of it.
There's also access to hundreds of radio stations via ShoutCase and a shortcut to searching for music videos on YouTube, and integration with the TuneWiki community. Finally, there's an FM radio.
The small screen and slowish processor might not make the Defy Mini a groundbreaking phone, but it does mean that battery life is excellent, with our review unit lasting two full days and it made a good stab at a third before tethering its internet connection finally killed it late in day three.
During the three days we used the phone as anyone else would; making calls, texting and using Twitter and Facebook, it was only when we tethered the internet connection to an iPad that the battery ran dry more quickly
Motorola Defy Mini: Screen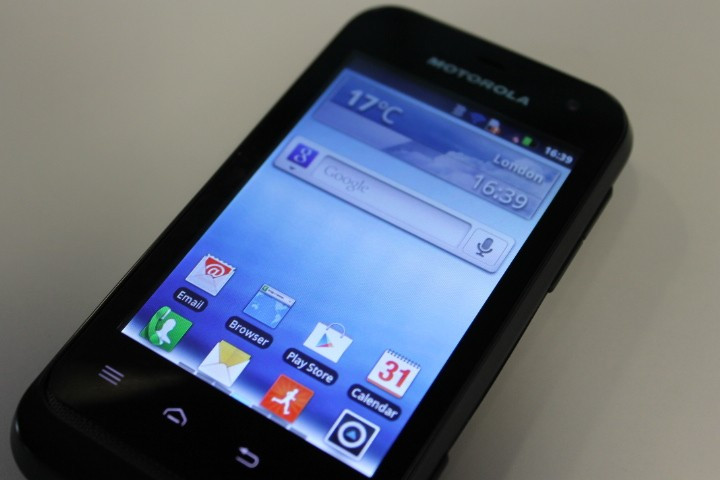 The screen of the Defy Mini isn't too bad for such a small phone. Sure, it's only 3.2in in size, but the resolution of 480 x 320 goes some way to making it a decent screen for the price, and it is plenty bright enough to be seen clearly in daylight.
However, the half-inch lost to the 3.7in Defy+ meant we had some difficulty typing on the touchscreen Qwerty keyboard at any speed. Using the genius Swipe feature solved this, however, and can be a real time-saver once you've spent a day or so getting used to it and learning to trust that it will accurately convert your scribbles into flowing prose.
Motorola must have realised that typing conventionally could be a problem, so Swipe is turned on by default, although it can be turned off in the Settings application.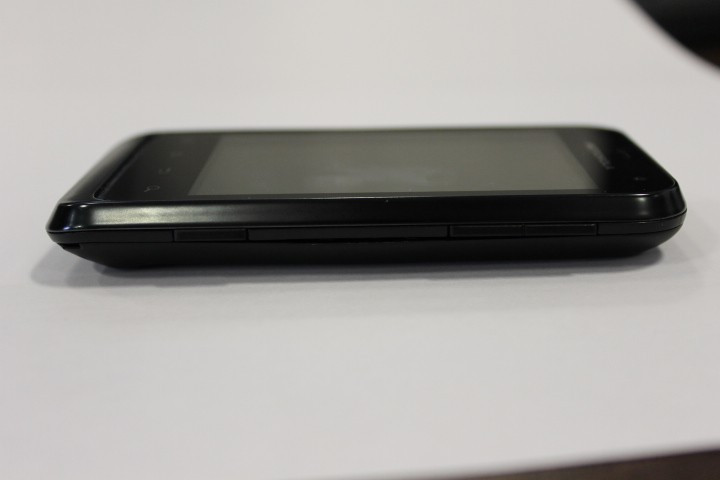 The Defy Mini is lacking an oleophobic coating - as seen on the iPhone - which meant that any grease transferred from our fingers was obviously present on the Gorilla Glass.
Finally, when held at an angle it is obvious that the display itself is a couple of millimeters behind the glass, making the phone look cheap.
Motorola Defy Mini: Verdict
The Defy Mini brings Motorola's 'life-proof' features to a package that is smaller and cheaper than the Defy+, but in doing so produces a phone that is slightly too small to be useful and with a processor that is underpowered.
Having just 512MB of internal storage just doesn't cut it, and although our review unit came with a 2GB microSD card, most users will be forced to buy a larger microSD card if they plan to store any amount of music or apps on the phone - though these can be bought online for only a few pounds these days.
Running Android 2.3 means the Defy Mini is already out-of-date and it is very unlikely that an upgrade to Android 4.0 will be coming any time soon. However, Gingerbread is a decent version of Android and for most users, particularly those targeted by this phone, it will more than suffice.
On the up side, the Mini has all of those 'life-proof' features, which could prove invaluable for users prone to dropping their smartphone into puddles, and the battery life is as good as your are going to get on a smartphone.
At £150 the Motorola Defy Mini is just too expensive for us to recommend, especially when the larger, faster and just as life-proof Defy+ can be had for just £25 more, SIM-free.
Scores:
Overall: 7/10
Screen: 7/10
Design: 6/10
Battery: 8/10
Performance: 7/10
Price: 7/10
The Good:
Good quality screen for the size/price
Excellent battery life
Water and dust proof
The Bad:
Slow processor
Screen size makes typing difficult
Too expensive; Defy+ doesn't cost much more
Motorola Defy Mini Camera Samples: