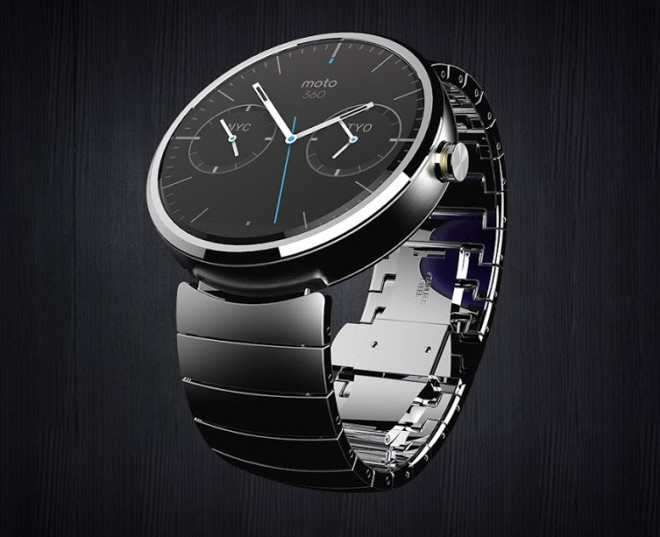 New details on Motorola's newly unveiled smartwatch, Moto 360, have surfaced revealing a few hardware features of the wearable device.
Following Google's announcement of its own mobile operating system specially designed for smartwatches, Motorola and LG unveiled their first smartwatches powered by Google's Android Wear.
During the announcement, Motorola, which was recently acquired by Lenovo, did not disclose many details about the specifications of the Moto 360.
The Moto 360 does not have any proper slot for charging the device. Motorola also did not provide details at the Meet Moto 360 Hangout. Now, Weibo, a Chinese microblogging site, has come out with some information.
According to a post on Weibo, the Moto 360 will feature magnetic induction wireless charging.
It is also claimed that the Moto 360 will use an OLED display panel. It would not be surprising to see Motorola using OLED display for Moto 360, as Motorola was able to get the most out of the feature to turn off pixels with the Moto X and Active Display, notes Android Geeks. This also suggests that Motorola is planning to bring some of the Moto X smartphone technology to the smartwatch.
The OLED display on the Moto 360 will reportedly feature sapphire glass covering, offering protection against scratches.
Smartwatch users will get to know more about the Moto 360 when the smartwatch becomes available globally in a range of styles this summer starting from the US. No date has been set for a market rollout, nor has the price been mentioned.
A key feature of the Moto 360 is Ok Google. Like the Moto X, the Moto 360 will respond to the Ok Google command to deliver information through the Google Now interface.