Motorola Moto G Review - Rewriting the Smartphone Rulebook
Key Features
4.5in display (720 x 1280 resolution)
Snapdragon 400 processor, quad-core, 1.2GHz
Android 4.3 (upgrade to 4.4 KitKat coming soon)
Price as Reviewed: £135 SIM-free (8GB)
Motorola Moto G Review
It is impossible to start this review without jumping straight to the price. At £135 for the 8GB model and £159 for 16GB, this phone is substantially cheaper than the most popular phones on the market . The iPhone 5s costs between £549 and £709; the Samsung Galaxy S4 can be had for around £400; even Google's 'cheap' Nexus 5 costs £299 - and yet the Moto G is closer to £100.
It has a high definition screen, a quad-core processor, a design that - while dull - is unlikely to offend, and will soon be upgraded to the latest version of Android, 4.4 KitKat. If Motorola's claims of making a profit on every Moto G are true, the Google-owned company may have just rewritten the smartphone rulebook.
Moto G: Design & Hardware
We Europeans felt let down by Motorola when its flagship Moto X was only released in the US. We wanted its customisation, unmodified Android, better-than-the-Nexus camera, and always-on microphone ready to be given voice commands.
While not filling the Moto X's shoes, the Moto G does at least borrow much of the flagship's design language. The front is fairly uninspiring and could easily pass as one of those generic phones used by advertisers who don't want to pay for product placement; there's a 4.5in glass-covered screen, a front-facing 1.3-megapixel camera - and that's about it.
Android's Home, Back and Menu buttons are all displayed on the screen itself rather than being physical, leaving a gaping chin below the screen where you'd expect the buttons to be.
I'd take three physical buttons in favour of them being on the screen any day, but fewer moving parts means a lower cost for the consumer - and anyway, if on-screen buttons are good enough for the Nexus 5, they're good enough for all Android manufacturers.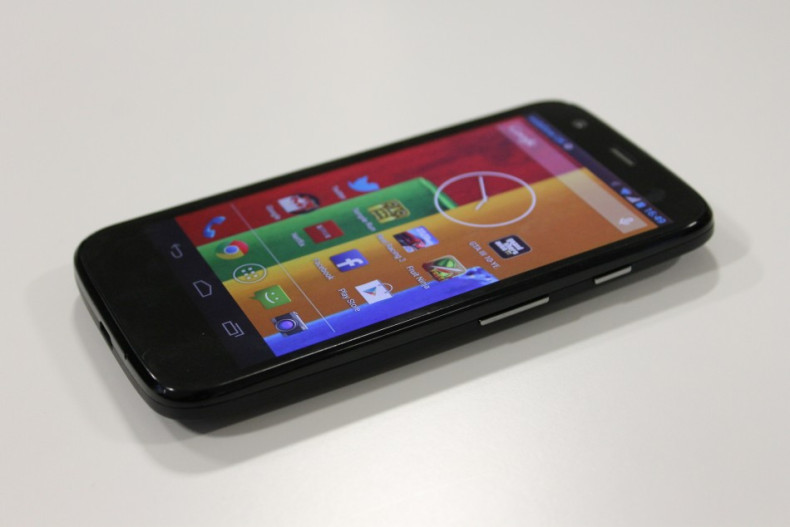 There's a chrome power button and volume rocker on the right of the glossy black screen bezel, a central headphone jack at the top, and a microUSB port along the bottom. The back cover is matte black, but can be prised off and replaced with a range of colourful alternatives sold by Motorola.
Unfortunately, the Moto G's front is only available in black, removing the back doesn't give access to the battery, and you won't find a micro SD card slot back there, either, so storage cannot be increased - although the phone comes with free access to 65GB of Google Drive cloud stoage for two years.
Changing the rear cover's colour may appeal to some users, but I found it incredibly difficult to remove; working a SIM removal tool around the edge proved to be effective, but it's less than ideal.
At 143g and 11.6mm thick, the Moto G is more chunky than I'd like it to be, but such criticisms are hard to stand up whenever that £135 price is mentioned.
Moto G: Screen
It would have been easy for Motorola to skimp on the screen to reach the Moto G's price, but it really hasn't. The phone's 4.5in display has a resolution of 720 x 1280 and pixel density of 326 pixels per inch (ppi) which is the same pixel density as the iPhone 5s.
Even ignoring the price, this is a great screen; sharp, well saturated and plenty bright enough for outdoor use. It's everything you would expect from a mid- to high-end smartphone, with good viewing angles and no lag responding to taps and swipes.
Some consumers will demand a larger screen, but this would have no doubt increased the price. If Apple can get away with a sub-5in phone, then so can Motorola.
Moto G: Performance
Powered by a 1.2GHz quad-core processor with 1GB of RAM, the Moto G offers more performance than its price would have you believe. Admittedly, Motorola has gone for Qualcomm's Snapdragon 400, rather than the 800 as used by the Galaxy S4 and HTC One, but don't let the smaller number put you off.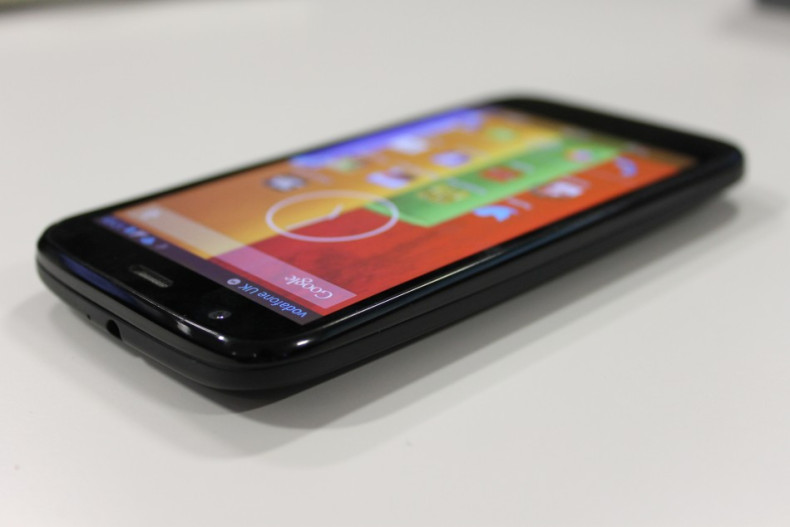 Android 4.3 (Jelly Bean) runs as smoothly as on any other phone - perhaps more so, given Motorola's decision not to pollute the operating system with its own user interface like Samsung's TouchWiz and HTC's Sense. Browsing the web with Chrome is fast; Facebook and Twitter are as responsive as on any other handset, and even games like Grand Theft Auto boot up and run flawlessly - and without the phone heating up during intensive use.
Having used the Moto G as my own phone for five days, I'm struggling to come up with a single complaint with its performance. No apps have crashed, the phone hasn't needed a single reboot and I can't once recall wishing for a faster processor or more RAM - it's that good.
Despite its close ties with Google, Motorola doesn't get access to Android updates any sooner than the competition, but given the Moto G doesn't have its own fancy user interface to update, the jump to KitKat will be made in January.
Moto G: Connectivity, Storage & Battery Life
So far so good, but now is where the Moto starts to show its limitations. Wi-Fi is limited to b, g and n - the new ac technology is missing - though this is something even the most expensive phones on the market are not yet supporting.
A bigger issue for some will be the lack of 4G supprt. Those looking for a bargain 4G phone will have to shop elsewhere - the Nexus 5 will surely fit the bill, for less than £300 - but again it's hard to be too critical of the Moto G when it's so cheap.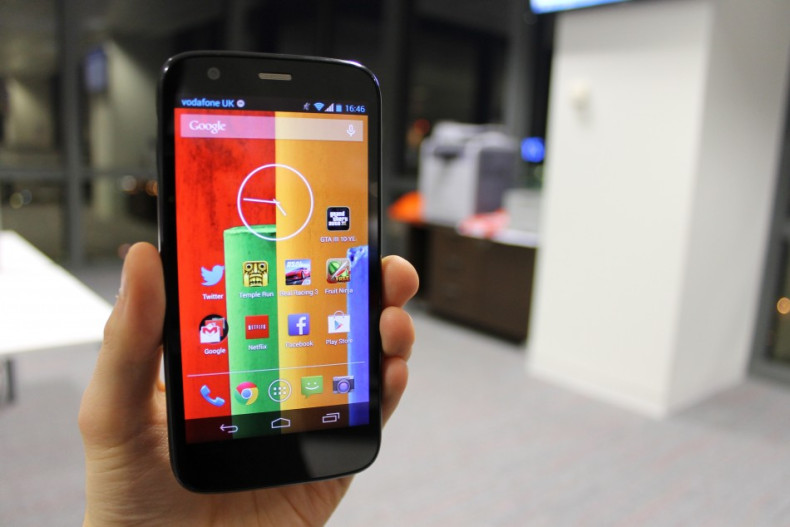 Storage is 8GB for £135 and 16GB for £159. These are both fine, given the price, but the lack of a micro SD card slot is a shame.
At 2070mAh, the Moto G's battery capacity is large for a medium sized phone - the iPhone 5s makes do with almost 25% less - and as a result the Moto G had no problems getting me through a full day of average use.
Currently, almost all smartphones fail to give a second full day, but the Moto G is one of the most efficient phones I've seen - a full weekend of light to average use is just about possible, which is more than I can say about some much more expensive rivals.
Moto G: Camera
It's no secret that Motorola has had to cut corners to sell the Moto G so cheaply, and although the screen and performance are excellent, the same cannot be said for the camera.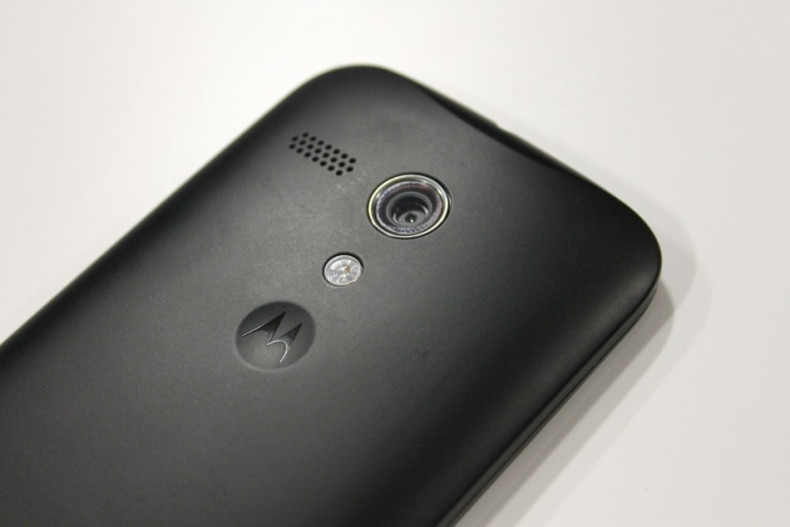 Firstly, the good - the camera app is identical to that of the Moto X. This means very easy one-handed operation. Tap anywhere for the camera to focus on that point and take a photo, swipe up with one finger anywhere on the screen to zoom in - down to zoom out - swipe left to see your gallery, swipe right to open the settings menu.
Its simplicity is hard to fault, and there's even a slow-motion video feature like you get on an iPhone 5s, but overall image quality is average at best. Photos aren't as sharp as I'd like them to be and while most of the camera app is speedy and responsive, there is a three second delay right after you take each photo - frustrating if you missed a moving object with your first attempt.
Moto G: Value & Verdict
The Moto G is like a £20 Casio watch. It's a bit dull, a bit unimaginative, and very plastic. But a £20 Casio tells the time as well as a £20,000 Rolex, and while the Moto G might lack the slim, aluminium design and premium sense of occasion the iPhone 5s or HTC One deliver, it browses the web, receives email, plays games and runs applications just as well.
It might be a bit heavier, thicker and quite boring to hold and look at, but the Moto G's performance is excellent, with a great screen and slick operating system. It's no Rolex or iPhone, but if you can get beyond the plainness of it, this Motorola is on par in almost every other sector - for £135, that's quite an achievement.
The budget smartphone benchmark has just been raised significantly.
Scores:
Screen: 9/10 - Bright, crisp and responsive. Surprisingly good for the price, but might be too small for some.
Camera: 6/10 - Smart and intuitive software let down by poor hardware producing average results.
Software: 9/10 - Not quite the newest, but with an upgrade coming soon, this unmodified version of Android is super smooth.
Design: 6/10 - Boring and unimaginative, it might copy the flagship Moto X, but neither can hold a candle to Apple and HTC.
Build Quality: 8/10 - Sturdy and well made, apart from the impossible-to-remove rear cover.
Overall: 8/10 - A few negatives are all but overruled by an insanely low price. A new benchmark in affordable smartphones.
The Good:
Fast processor with smooth software
The Bad: