The Android 4.1 (Jelly Bean) is being ported to a range of devices which include Samsung Galaxy Nexus, HTC One X, Galaxy S3, Galaxy S2, Galaxy S and Acer Iconia Tab A500. Now, owners of Motorola Xoom will be able to grab the Jelly Bean and try it on their tablet, thanks to michie, an XDA Senior Member, who has ported the Jelly Bean to the Motorola Xoom. The Xoom has been the first tablet to run on Android 3.0 (Honeycomb) operating system. Gradually, the device received the Android 4.0 (Ice Cream Sandwich) update.
The Jelly Bean ROM on Xoom is not working perfectly since it has issues related to sound, Wi-Fi and data. The developer claims to continue his work to provide a better preview until Google releases the sources shortly. He advises not to change the Kernel as the one included is modified CyanogenMod 9 (CM9) Kernel.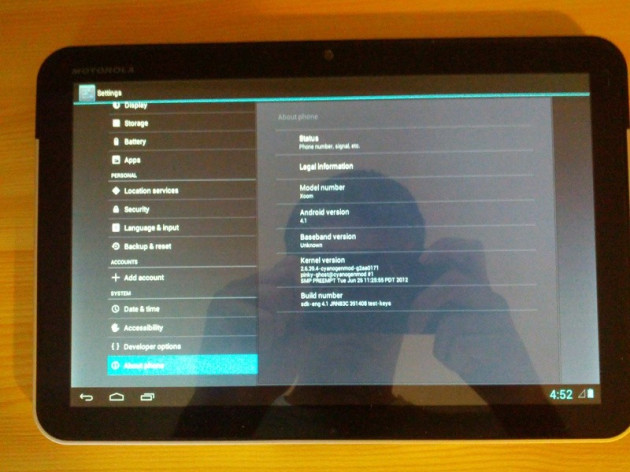 If you wish to try out the Jelly Bean on your Motorola Xoom, you can check for more details and instructions over the official thread on xda-developers. On a serious note, users are advised to wait until Motorola's official update to Jelly Bean is out. The Jelly Bean is expected to arrive initially on Samsung Galaxy Nexus, Nexus S and Motorola Xoom devices.
"Android 4.1 also adds triple buffering in the graphics pipeline, for more consistent rendering that makes everything feel smoother, from scrolling to paging and animations," explains Android Developers. "Android 4.1 reduces touch latency not only by synchronising touch to vsync timing, but also by actually anticipating where your finger will be at the time of the screen refresh."
"When you scoop up a device running Jelly Bean, you'll appreciate just how different this update makes Android feel -- everything is smoother and faster," claims CNET UK. "It's one of the most competent updates yet witnessed from Google," it adds.
The Jelly Bean is expected to provide faster transition between home screen and applications and thereby making the device more responsive. It builds on top of Ice Cream Sandwich and makes everything smoother, faster and more fluid. The new OS is expected to roll out to few devices later this month. As part of announcing the Jelly Bean, Google has also unveiled Project Butter, one of the major innovations of Jelly Bean.