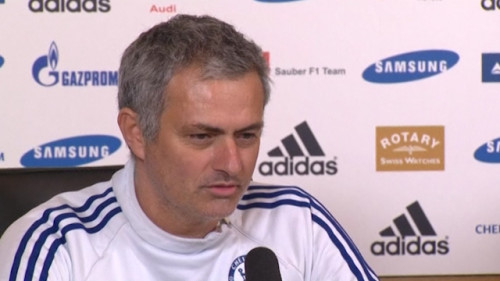 Jose Mourinho has blasted West Ham's style of play after their 0-0 draw at the Stamford Bridge on Wednesday.
The Portuguese manager likened their style of play to the 19th century, adding that the style of play displayed by the Hammers showed why the Premier League is not the best league in the world.
Chelsea dropped the opportunity to move above Arsenal with a win and have a tough game against the current leaders lined up at the Etihad stadium next week which is now a must win game for the Blues, failing which may see them fall five points behind the Gunners, who play Crystal Palace at the Emirates.
Chelsea tried their best to make an impact and had more than 30 shots on goal but failed to find the net with any of them. The likes of Samuel Eto'o, Oscar and Eden Hazard played themelves into the ground but failed to get past a solid West Ham defence who had come in with the sole intention of securing a point.
Mourinho revealed that he understands Sam Allardyce's tactics but quipped that he would need a Black and Decker to breach the wall that West Ham had put up.
"A football match is about two teams playing and this match was only one team playing and another team not playing. I told Big Sam and I repeat my words: they need points and, because they need points, to come here and play the way they did, is it acceptable? Maybe, yes," Mourinho said.
"I cannot be too critical, because if I was in his position I don't know if I would do the same. Maybe. At the same time I told him also this is not Premier League, this is not the best league in the world, this is football from the 19th century. The only (other) thing I could bring was a Black and Decker (tool) to destroy the wall," he concluded.