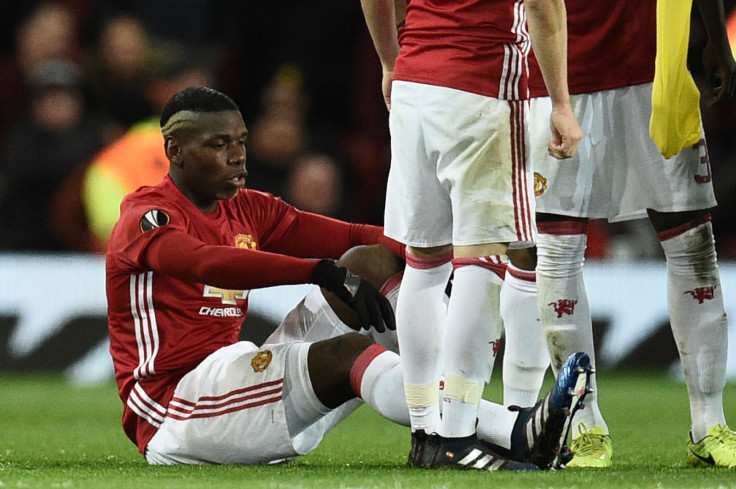 Jose Mourinho went on the offensive following Manchester United's unconvincing 1-0 Europa League last-16 second-leg win over FC Rostov on Thursday night (15 March), bemoaning a relentlessly hectic fixture list and fatigue while declaring that the club have "lots of enemies".
The hosts, who would have gone through with a goalless draw thanks to Henrikh Mkhitaryan's away goal in Russia, eventually secured a place in the quarter-finals of Europe's secondary club competition for the first time in 32 years courtesy of Juan Mata's close-range finish 20 minutes from time.
However, the victory, which was preserved by a fantastic stoppage-time save from second-choice goalkeeper Sergio Romero, came at a cost, with Paul Pogba limping off after the interval and Daley Blind also withdrawn due to a head injury.
"It was a difficult game," Mourinho told BT Sport after admitting he was scared of extra time due to some of his players, not least Marcos Rojo, being in trouble with their fitness. "We have lots of enemies. Normally the enemy should be Rostov, but we have lots of enemies.
"It's difficult to play Monday night [against Chelsea] with 10 men, it's difficult to play now, it's difficult to play Sunday at 12 o'clock [against Middlesbrough]. We have lots of enemies, but the boys were fantastic."
Mourinho appeared extremely pessimistic with regards to his side's chances of returning from a Sunday lunchtime Premier League trip to newly-managerless Middlesbrough with all three points.
"I can imagine that some people would be saying that we should play better, we should score more goals, we should not have so many difficulties to beat these opponents. The reality is that we have lots of things going against us and we have to fight. The boys are amazing, and probably we lose the game on Sunday, but we try our best."
Ruing the injuries to Pogba and Blind, he added: "Fatigue has a price. I will remember forever when I spoke with the Uefa delegate in Rostov. He told me if any one of your players gets injured, the insurance pays, so the pitch is not a problem.
"Probably the people that decide the matches for us on the Monday, on the Sunday at 12 o'clock, probably will think the same: if they are injured, they are insured. No problem!"
Asked about Pogba again during his post-match press conference, Mourinho ruled the 24-year-old out of this weekend's fixture and France's upcoming friendly against Spain. He was already suspended for the 2018 World Cup qualifier in Luxembourg.
"It is a hamstring. I don't know for sure but no Middlesbrough and [no] national team," he was quoted as saying by BBC Sport.
The fired-up United boss also took no solace in United being the last Manchester club left standing in Europe, with City having been eliminated from the Champions League on away goals on Wednesday night after a 3-1 defeat in Monaco.
"I'm very disappointed and I'm not making fun of it," he said. "I'm feeling it. It's bad for us for many reasons. It's bad for us because it's an English club, it's bad for us because, of all the five teams that are in front of us in the Premier League, nobody has international football. So they will be playing one match per week, like some of them have been doing since the beginning of the season.
"They don't know what fatigue is. They don't know what accumulation is. They don't know what it is to go home probably tonight and not sleep because of fatigue. Tomorrow is another day for us. We fight until the limits. That's what we have to do."