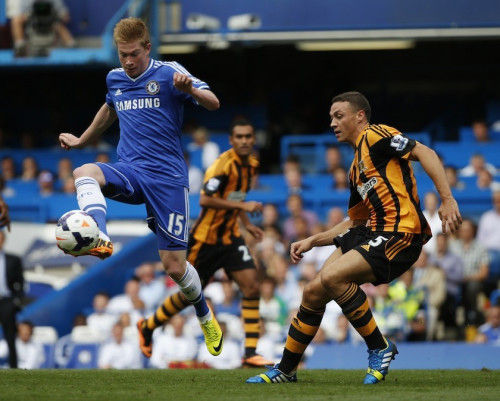 Jose Mourinho has confirmed that Chelsea have received multiple bids for Kevin De Bruyne but refuted rumours about Eden Hazard's departure in January.
De Bruyne spent one-and-a-half season away on loan after signing for Chelsea in January 2012. Reports about the Belgium midfielder's return to the Bundesliga had gathered pace on Friday with rumours doing the rounds that Wolfsburg had agreed with the player's agent Patrick De Koster on the terms for a transfer in January.
The 22-year-old was assured of first-team opportunities this season by the Portuguese tactician. But with only two starts so far in the Premier League this season, the Belgian's agent earlier admitted that his client may leave the west London club in order to enhance his chances of making it to the national team for the World Cup in Brazil.
"We've had two bids for Kevin which the club are analyzing. It's a very good deal for the club from a financial point of view, the club bought him a couple of years ago for a small fee and now we have the possibility to sell him for a very positive amount." Mourinho explained.
"He has a chance to go. He's a player that we've had a couple of offers for. We will keep analysing these offers. One of them is coming to a level where we believe it can be a good situation for the player and the club," he added.
Meanwhile, Mourinho turned down rumours that Hazard is set to leave the Blues to join Paris Saint-Germain. The Ligue 1 champions were reportedly interested in signing the former Lille player in the ongoing transfer window.
But the 50-year-old insisted that the club are not looking to sell their star winger. Hazard has been in sensational form for the Blues and is Chelsea's leading scorer with eight goals and is the highest contributor with five assists to his name in 20 league matches.
"I'm not worried because if two years later he is two or three times better than he was when we bought him, his value in the market is a crazy value," Mourinho said.
"On top of that, he's not a player we are interested in selling. Because of the fact we don't want to sell and the crazy value he has, I don't think there's any chance Eden will go," he concluded.