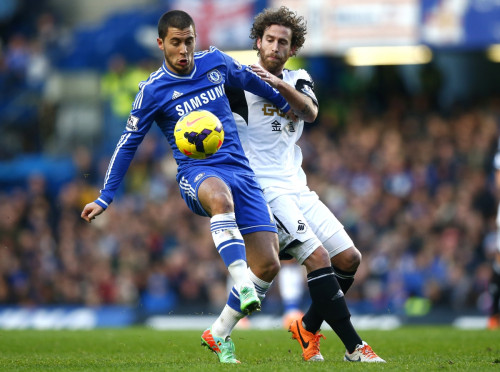 Jose Mourinho believes that Eden Hazard is demonstrating the same potential as Cristiano Ronaldo and Lionel Messi in their early days with the winger going from strength to strength at Chelsea.
Messi and Ronaldo's abilities have been widely documented and most footballers will only ever dream of reaching the heights of the La Liga duo who have wrestled over the Ballon d'Or for some years now.
But as Hazard continues to have a big hand in Chelsea's title push this season – having scored 11 times in 30 appearances for the side – Mourinho insists that he might become one of the world's best players in the coming seasons as he continues to improve.
"Now I say yes (he can reach that level)," he told the Mirror. "Because his evolution is great. I think, because of the positions Cristiano and Messi played, they are also top goalscorers.
"It's not just the quality of the players, but the number of goals they score that makes them even more special. Eden is a winger, a pure winger. Okay, we are giving him freedom to go to other areas, but he's an attacking winger.
"I don't think it's possible for Eden to be top scorer in the league. That normally affects people's judgement. But if he can be a match-winner, a player with high performances during a season... without injuries, Messi and Ronaldo start and finish strong, players with big stability in their performances."
Mourinho believes that Hazard has a long way to go with Chelsea before he reaches his peak, insisting that while winning the Ballon d'Or is difficult matching Ronaldo and Messi's skills will be a natural progession for the young star.
"If he wants the Ballon d'Or, he must build the entourage politically for that," Mourinho explained. "Without the entourage and the politics, he doesn't get the Ballon d'Or. It's a different story.
"If he wants to be a great, great player and arrive where Cristiano and Messi arrives, he has the space to go - he's 23, and Cristiano is 28 or 29, Messi 26 or 27... still young players, but four or five years older than Eden.
"So he has the space to go, space for evolution. I think there's a great ambition for him."