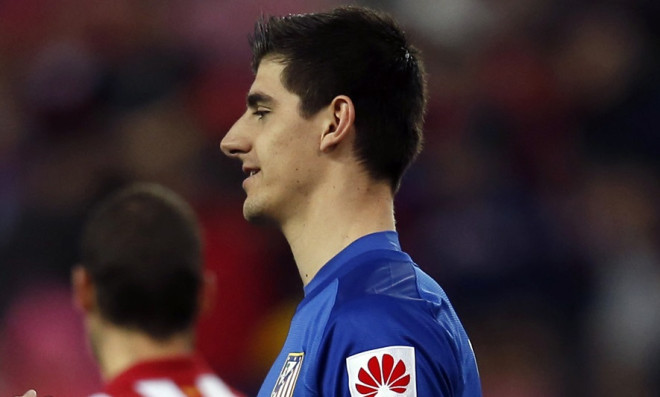 Jose Mourinho has reportedly told Thibaut Courtois that he will be Chelsea's number one choice in goal next season if the Belgian wants to return to Stamford Bridge, with the Blues boss disappointed with Petr Cech's form this season.
The 21-year-old goalkeeper is currently enjoying his third season at the Vicente Calderon Stadium where he has built a reputation as one of the finest shot stoppers in Europe.
On Monday Courtois confirmed he will reveal next week whether he is staying at Atletico Madrid or returning to Chelsea at the end of the season.
Reports in Spain suggested then that the 'keeper was set to sign a new deal with Chelsea that would also prolong his loan spell in La Liga, with the Blues willing to grant another loan spell at Atletico once his long term future with them is addressed.
However, Spanish newspaper El Confidencial reports that there may have been a last minute change in that scenario after Mourinho approached Courtois promising him the number one shirt next season.
Courtois has said a number of occasions that he will return to Stamford Bridge under the condition that he plays ahead of Cech.
"I'm 21 years old, but I've been playing for four year as a starting goalkeeper, with almost 40 games per season. Now I couldn't imagine not playing that many. I hope that if I come back its to play, if not, we'll look for another solution. They have a very good goalkeeper and that's a decision they need to make," Courtois said in January.
And El Confidencial are confident Mourinho has taken the decision to sacrifice Cech.
The Spanish newspaper claim that Mourinho has reconsidered Cech's position after being left disappointed with his performances in pivotal games this season, including the 3-1 defeat to Paris Saint Germain in the first leg of their Champions League quarter final clash.
El Confidencial adds that Mourinho and Courtois have a very good relationship built on Mourinho's decision to allow him to remain in La Liga and play an important role in Atletico's season, something which has also assured him a starting role for Belgium ahead of the World Cup.