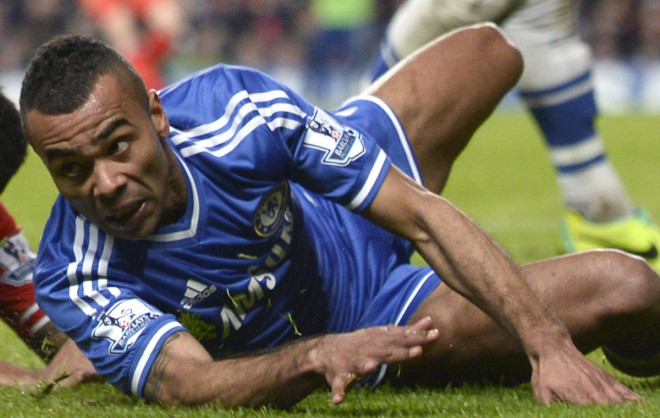 Chelsea manager Jose Mourinho has thrown Ashley Cole's future at the club into severe doubt after stating he has no plans to reinstate the England defender in Blues first team.
Cole, 33, is out of contract at the end of the season and has started just two Premier League games in 2014 having played second fiddle to Spaniard Cesar Azpilicueta, who is first choice at left-back following Ryan Bertrand's loan move to Aston Villa.
The England international along with captain John Terry and midfielder Frank Lampard are all out of contract at the end of the campaign, but Cole's future appears most at risk particularly given his lack of recent appearances.
"I don't know [if Cole will be recalled]," Mourinho said. "I'm very happy with the way Cesar Azpilicueta is performing."
England manager Roy Hodgson is expected to make the players involved during the country's successful World Cup qualifying campaign central to his plans for the finals this summer, though Cole's limited activity of late makes his call-up a doubt.
The form of Everton's Leighton Baines and Southampton's Luke Shaw means Hodgson has a difficult decision to make and Hodgson accepts Cole might not be an automatic choice as he continues to be overlooked at Chelsea.
"For years people have been understudy to Ashley," said Hodgson.
"Now it's Ashley's turn to sit back. We know what Ashley can do. We know how fit he keeps himself, how experienced he is.
"I certainly wouldn't write Ashley Cole out of any plans because he isn't playing in his club team. But he will have to accept, like everyone else, that the competition for his place in the club team and international team gets stronger all the time, and I will have a decision to make.
"It's a bit of a problem when you are a full-back. If you are a midfield player, there might be three or four positions you can play. Full-backs are like goalkeepers – either you play or you have to be understudy."
Mourinho added on Cole's international aspirations: "I cannot think in national teams at the same time as thinking about my team.
"There are national team managers that are very clear: they go with their players. It doesn't matter if their players are playing in the club or if they are not playing, they go with their players."