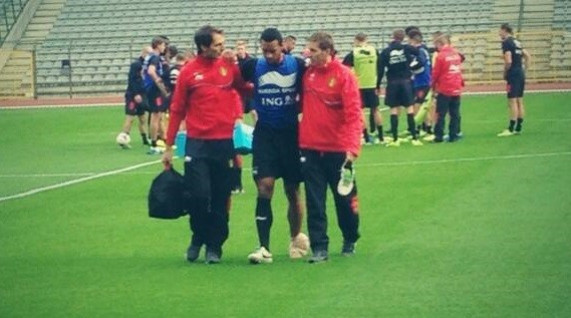 Tottenham Hotspur midfielder Mousa Dembele has suffered an injury scare ahead of Belgium's World Cup qualifiers after limping out of training in Zagreb.
Ahead of their penultimate qualifier against Croatia on Friday Dembele was seen leaving training accompanied by two medical personnel with his left ankle heavily strapped.
The 26 year old is now likely to be a major doubt for the game against Croatia in which Belgium require just a point to secure passage to next year's World Cup finals in Brazil.
Should Dembele be ruled out he will become the latest injury victim in the lead-up to the climax of Belgium's World Cup qualifying campaign, which has produced seven wins from eight games.
Captain Vincent Kompany has already been forced to withdraw with an thigh problem suffered in Manchester City's win over Everton while Aston Villa forward Christian Benteke is also out with a long-term hamstring problem.
Marouane Fellaini is fit to play despite a wrist injury which will require surgery in December and Kevin de Bruyne is also available after clarifying reports he had been rushed to hospital after picking up an ankle injury.
Dembele has played a major role in Tottenham's season thus far, starting all seven of the club's Premier League fixtures and featuring in all of their games this season despite the summer additions of Christian Eriksen, Etienne Capoue and Paulinho.
However, the Belgium international has often been at the central of several injury scares, suffering a knee injury during his spell at AZ Alkmaar. Dembele played 75 times for Fulham across two seasons before making 42 appearances in his maiden campaign for Tottenham
Part of the Tottenham side which had their early season form derailed by West Ham United at the weekend, Dembele insists the club must start to win matches against mid-table sides in order to challenge for the Premier League title.
"You look at the top teams. If you want to be champions, you have to win these 'small games'," he told the Tottenham and Wood Green Journal.
"You can see it's the difference with the guys who become champions - they win these games. If we want to be there with the top four we need to win them too.
"It's easier to play against the top teams for the motivation, but if we want to be a top team we need to be focused for these kinds of games."