Moussa Sissoko laments failure to leave Newcastle United for 'big club' in summer transfer window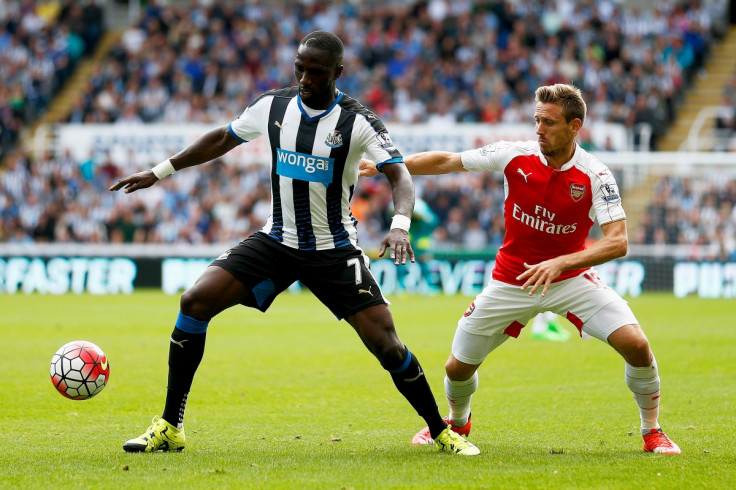 Newcastle United midfielder Moussa Sissoko has risked the wrath of Magpies supporters by saying does not play for a "big club" and that last summer would have been a "good time" to leave St James' Park. The France international has made no secret over his desire to join Arsenal and play in the Champions League, but his latest comments could tarnish his reputation beyond repair in the north east.
Toon boss Steve McLaren believes Sissoko has a key role to play this season. The Mali-born player has made 94 appearances in just over three seasons for the club and has been an influential member of a club that has regularly flirted with the wrong end of the table.
Speaking in January, Sissoko admitted that Arsenal were "the club of my heart", while later in the year the 25-year-old Frenchman admitted to knowing that Chelsea manager Jose Mourinho was tracking his progress closely. But speaking following France's friendly win over Portugal, Sissoko has gone one step further by admitting to being envious of the career trajectory of his international colleagues.
"Today, I look at those who are playing [with me]: there is Blaise [Matuidi] who is doing extraordinary things at PSG, Paul [Pogba], who is marvellous at Juventus, Yohan Cabaye, who has just signed for Crystal Palace and Morgan Schneiderlin who is now at Manchester United. Compared to me, they are all playing in big clubs.
"I am happy at Newcastle, but it is not a big four club. And don't forget that there are other midfielders who are playing at bigger clubs than mine and they are not being called up. It is up to me do to even more to push for a starting place.
In June, Sissoko appeared to rule out leaving Newcastle in an effort to remain in Didier Deschamps' France squad for the 2016 European Championship. While Sissoko is a regular with the Magpies, he could have become a squad player at either Arsenal or Chelsea.
However, adding in an interview that is likely to cause consternation within the walls of Newcastle, Sissoko stated that last summer would have been the perfect time to leave the club. "It could have been the right moment to leave," he revealed. "I had some discussions with the club who told me that they were against my departure. I have the opportunity to play every weekend, to play in a fantastic stadium. What I am missing, is playing for the leading positions. There were clubs but Newcastle vetoed [the offers]. I would like to experience [the Champions League] very soon. Watching it like this boosts me to hope to be there one day."
The Mirror claimed back in December 2014 that Arsenal were weighing up a £16m ($24.6m) bid for Sissoko, but the player believes he could be worth £72m. "If I was president of the club, why [am I not worth] €100m? We see lots of things on the transfer market today," he said.
© Copyright IBTimes 2023. All rights reserved.