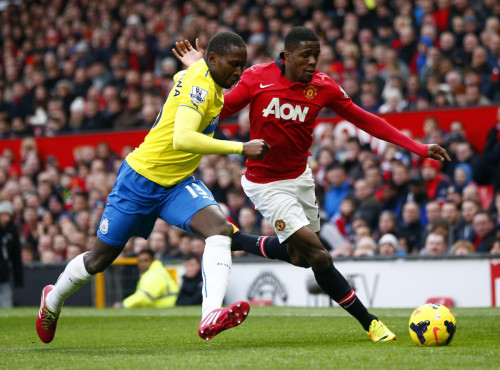 Manchester United manager David Moyes has hinted winger Wilfried Zaha will leave the club on loan in the January transfer window after informing the England international he would consider his future if he received limited game time.
Zaha has made just four appearances this season but did feature in the Premier League win at Aston Villa on Sunday but has made one start in all competitions since the Community Shield victory over Wigan Athletic in August.
The 21 year old has been linked with a move to Newcastle United in the New Year while former club Crystal Palace had a deadline day loan move for Zaha rejected, but Moyes now appears more receptive to a loan move.
"I did say to Wilf if I didn't feel he was getting enough games, I would consider it," Moyes told MUTV.
"Obviously if we've got injuries or other reasons, I wouldn't take it on board. But the truth is we haven't had anybody phoning up and wanting to do that at the moment.
"While it's like that, I am fine."
Zaha joined United from Palace last January but spent the final six months of the season back at Selhurst Park and helping the club to promotion to the Premier League.
However, since joining United on a permanent basis appearances for Zaha have not been forthcoming leading to his marginalisation in the first team at Old Trafford.
Moyes has expressed his concern that Zaha is not yet ready to play for United on a regular basis and the scout who discovered him Dave Webb says a move to Newcastle would be beneficial.
"He needs to go to a footballing side which utilises wingers rather than a direct team," he added. "Newcastle play a good style of football and Alan Pardew is a very good manager who likes to play with pace and power and Wilf would benefit from that.
"He needs playing time and to get the confidence but I still think Manchester United was a very good move for him. I do think he is good enough. He has a lot to offer but still has a hell of a lot to do."