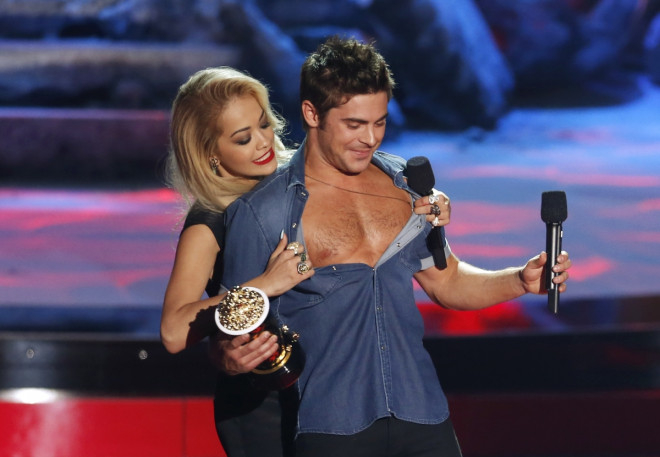 The MTV Movie awards 2014 delivered what it does the best: popcorn trophies, musical performances, movie previews and a sexy dash of shirtless Zac Efron that almost led the girls go crazy.
The entertainment galore of Sunday night was high, thanks to the blockbuster-friendly award show that chooses winners by fan votes.
Host Conan O'Brien took the audiences on a laughter riot and Ellen Page introduced 'never seen before clips' from the upcoming movie X-Men: Days of Future Past.
The biggest winner of the evening was the movie Dallas Buyers Club, which already ruled the Golden Globes and the Oscars. The MTV award show is also known for some of the funniest, wittiest and awkward acceptance speeches. Here we have handpicked few interesting speeches from the award ceremony.
The award show distributes some of the unusual trophies including the Best Kiss, which went to Will Poulter, Jennifer Aniston and Emma Roberts for We're the Millers. But only Poulter came on stage to receive the award and said:
"On movie sets often actors hook up, it happens, you know. Me, Jen and Emma were so happy together. But you know dating two women is hard. I don't know how anyone does it. But I am coping, I'm managing."
The Best Shirtless Performance went to Zac Efron and thanks to Rita Ora for giving the best moment of the award night when she ripped open Effron's shirt. The actor showed-off his perfectly toned six-pack abs and said "I really don't know what to say, but thank you so much to my fans."
Efron later thanked his fans for the award and tweeted.
What a crazy night! Thanks to all the fans who made it possible! #mtv #MovieAwards pic.twitter.com/FfDV65OEuO

— Zac Efron (@ZacEfron) April 14, 2014
Mila Kunis showed off her tiny baby bump and went emotional while receiving the golden popcorn trophy for Best Villain for the movie Oz the Great and Powerful and said, "Listen, you guys, you just made my 12-year-old self dream come true. This is by far the coolest award and I just realized I was the only woman nominated and I won!"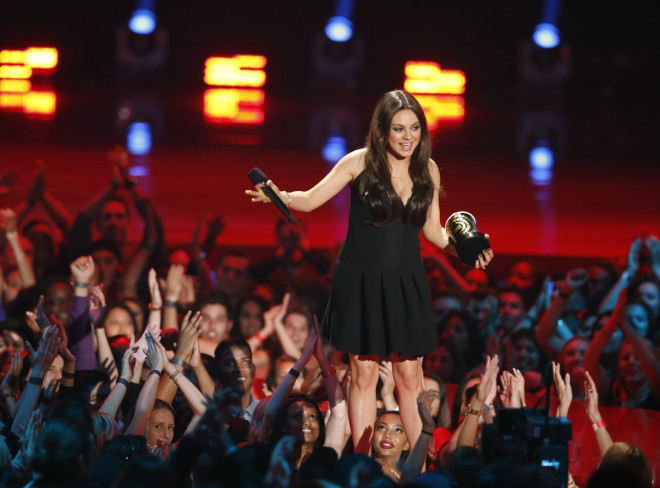 Mark Wahlberg couldn't control his excitement after winning the Generation Award and used the F-word a couple of times in his speech.
"Too F*****g Old to Return Award" the Bourne star said. "I'm a lucky guy in so many ways, to have worked with so many talented people, to have gone from literally being incarcerated to having a one-hit rap career to having an underwear modelling career," Wahlberg continued.
He responded to a cheering audience and said Hey, shut the f**k up! I'm about to cry in a minute. S**t-, I ain't f**king around. I've got to do Ted 2."