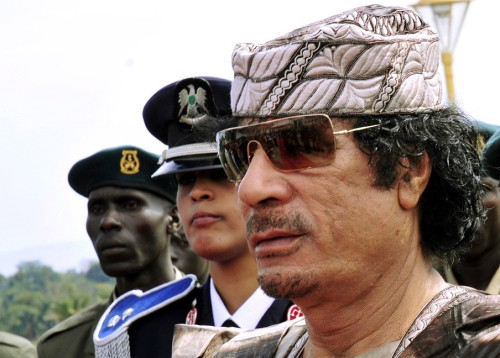 "There was nothing good about Muammar Gaddafi", Ali Aujali, Muammar Gaddafi's former ambassador to the United States, has told the BBC in a revelatory new documentary.
More than two years after the capture and murder of Gaddafi, the film, Mad Dog: Gaddafi's Secret World, which features unprecedented access to those close to the former Libyan leader, paints a picture of a man who thought nothing of killing hundreds of people to prove a point.
In one instance, according to Aujali, a Libyan Arab Airlines 727 plane was shot down on Gaddafi's orders. A total of 157 people died in the crash.
Aujali said Gaddafi's motive had been to show the West how international sanctions, imposed after Lockerbie, and the resulting shortage of spare plane parts, meant Libyan Arab Airlines could not fly its planes safely.
Gaddafi also thought that anybody who was a dissident should be eliminated, according to Frank Terpil, an American fugitive from justice who ran a "Murder Incorporated" operation for Gaddafi in the 1970s to target and kill Libyan dissidents living abroad.
In another claim, Gaddafi was said to have ordered the death of an enemy by tying him to two cars and having them driven them in opposite directions to rip the victim apart. The man's crime had been to allege that Gaddafi had slept with his wife.
Gaddafi also ordered his bodyguards to rejoice when they witnessed the execution of 17 students, one of his former bodyguards said in the film.
"They did not hang them. They shot them. We were forbidden to scream. We were ordered to cheer," the former bodyguard told the BBC.
The wife of Lutz Kayser, a German rocket designer who worked for Gaddafi in the 1980s, described Gaddafi as "charming" but he became disillusioned when Gaddafi failed to set up a "utopia" in Libya.
Gary Peters, an Australian bodyguard for the Gaddafi family, who fled to Niger with the ex-leader's son Saadi, said: "He stood to the last because he thought he could possibly reclaim his status."
The film also details claims that Gaddafi kidnapped and raped dozen of boys and girls.
Victims and witnesses said that Gaddafi would choose his targets on visits to schools or colleges, patting his intended victims on the head as a signal to his henchmen.
Security officials would then take the victim to one of several specially designed suites of rooms, where they would be abused and raped by the dictator.
Allegations that Gaddafi kidnapped scores of women and subjected them to systematic abuse emerged in 2013.
French journalist Annick Cojean published Gaddafi's Harem: The Story of a Young Woman, and the Abuses of Power in Libya, recounting the story of a schoolgirl kidnapped and raped by Gaddafi.
Mad Dog: Gaddafi's Secret World will be broadcast on BBC Four on tonight (Monday) at 10pm