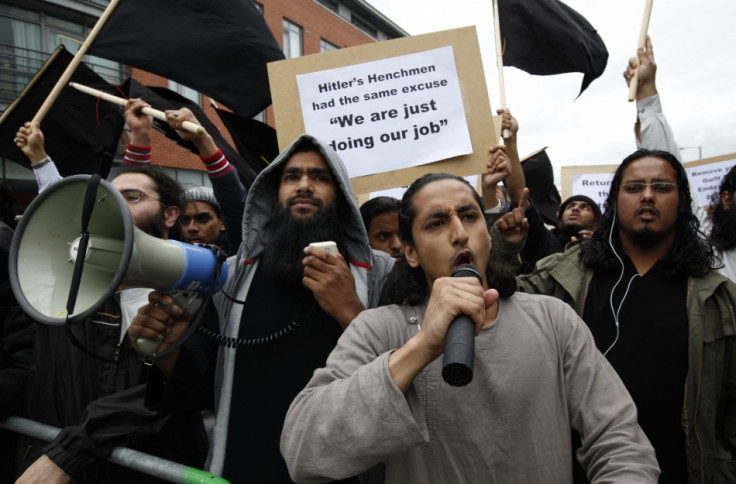 Three addresses connected to the now banned Muslims Against Crusades were raided by anti-terrorism police late Nov. 10.
At around 23:00, officers used three warrants under the Terrorism Act 2000 to search the three east London addresses.
They continued searching the premises until 05:30 the following morning.
No arrests were made.
Home Secretary Theresa May had announced that the extreme Islamic group was to be banned from midnight that night.
It was in response to MAC's planned protest at the Royal Albert Hall on Armistice Day.
On the same day the previous year, members of the group burned two large poppies during the two-minute silence, provoking anger across Britain.
As a result, one man who burnt a poppy were hauled in front of a judge and fined for a public order offence.
Muslims Against Crusades was the latest name for the same group of hard-line muslims.
Previously they had been called Islam4UK and Al-Muhajiroun, among other names, but all those past groups were added to the list of proscribed organisations by the Home Office, which outlaws them.
Radical cleric Anjem Choudary, leader of MAC, told IBTimes UK shortly after the ban announcement that the group's "objective had been achieved".
He said that now the world was talking about the group and its arguments. Choudary swiftly dissolved the group and cancelled their Armistice Day protest.
"It's a fishing expedition at the end of the day, they've got nothing on me. I haven't done anything illegal," he told Reuters about the police raids, one of which was on his home.
"Obviously it's inconvenient, but that doesn't stop me propagating what I believe."