Arsenal have been handed a massive injury blow with Shkodran Mustafi facing an extended spell on the sidelines after suffering suspected torn ligaments during Germany's 5-1 win over Azerbaijan in their final World Cup qualifier game on Sunday (8 October).
The Gunners centre-back went to ground during the build up to Azerbaijan's only goal of the game, and after extended treatment, he was seen limping off the ground clutching his thigh and groin area. The German defender was replaced by Mattias Ginter in the 36<sup>th minute.
Mustafi's injury will come as a big blow to Arsenal manager Arsene Wenger, whose team were undefeated in September following a difficult start to the season.
The 25-year-old defender has played six games across all competitions this season, and has been part of a defence that has maintained four straight clean sheets in the league. His absence will be a major setback going into what is one of the busiest parts of the campaign.
Germany manager Joachim Low was not positive in his assessment after the game and revealed that the defender could be out for a while with torn ligaments.
Wenger will be short of defenders when Arsenal travel to Watford on Saturday (14 October) as Laurent Koscielny and Calum Chambers were also carrying knocks, which forced them to miss Arsenal's game against Brighton and Hove Albion ahead of the international break.
"It doesn't look good, it looks like he had torn a ligament. We're waiting for a full diagnosis, but it looks like he will be out for a while," Low said after Germany's win, as quoted by Sky Sports.
Koscielny and Chambers are expected to return by the weekend, while Rob Holding remains an option to fill Mustafi's void.
Arsenal have a busy fixture list up ahead with games in the Premier League, Europa League and the Carabao Cup before the next international break in November.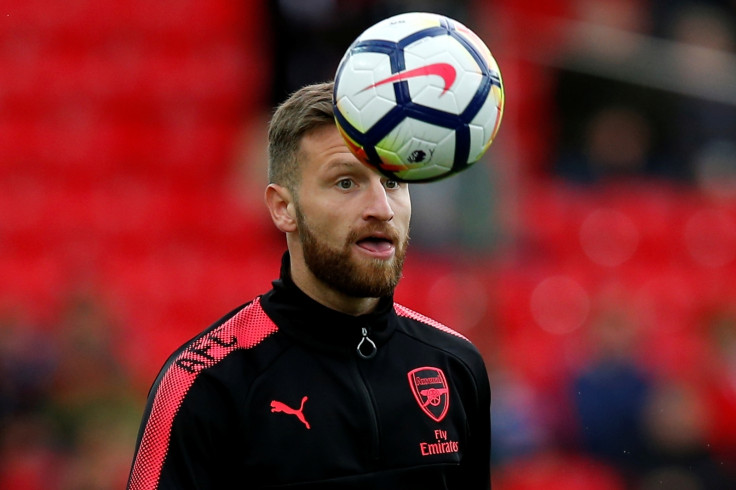 Meanwhile, Arsenal striker Lucas Perez, who is on loan with Deportivo La Coruna for the season, is also facing a spell on the sidelines after picking up an injury during their win over Getafe on 30 September. The club have confirmed an injury to his left quadriceps and he will be out until the bruising heals.
"Real Club Deportivo's medical staff have verified that the Coruna striker has a significant contusion in his left quadriceps, that has caused a haematoma in the crural muscle. The Branquiazul striker will receive physiotherapy treatment until the bruising heals," a statement on the club's official site read.