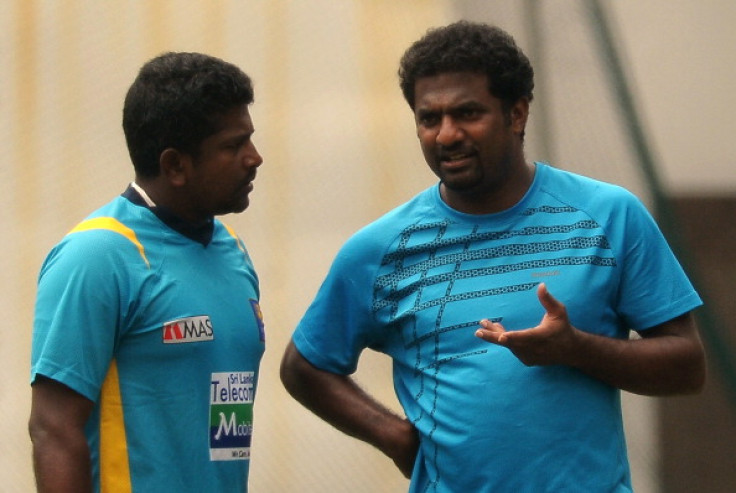 Cricket legend Muttiah Muralitharan is at the centre of a heated controversy ahead of the first Test between Sri Lanka and Australia, with Sri Lanka Cricket (SLC) accusing the off-spinner of berating the manager and conducting centre-wicket training at the Pallekele Cricket Stadium without permission.
The Sri Lankan legend, who is the highest wicket-taker in Test cricket with 800 scalps, is currently assisting Australian spin bowlers prepare for the Test series. Muralitharan has been employed by the visitors as their special bowling coach for a 10-day period.
SLC is not very happy with the way the former off-spinner has gone about his business and president of the board Thilanga Sumathipala confirmed that they had lodged a complaint with Cricket Australia.
"There are two problems here. The first is that Charith Senanayake has made a complaint that he has been berated. The second is that a certain training session for the Australia players at Pallekele had been carried out without permission", Sumathipala told ESPNCricinfo.
"We're very disappointed because Murali is a player the board spent a lot of effort saving. We saved him three times. From a professional standpoint, there is no problem with him working with the Australian team. But the issue here is an ethical one. We've named the trophy Murali-Warne Trophy. Kandy is his hometown, and he's now had to coach an opposition team at Pallekele. Regardless of professionalism, we're very hurt by this", the SLC president added.
Muralitharan on his part has refuted suggestions that he had berated the team manager, claiming that it was Senanayake himself who started the rumour.
"Charith has accused me and told the media that I have cut the grass on the pitch to help Australia's spin bowlers to take the wickets in the three day game. That's a lie. When I met him I asked him: 'We played together and respected each other, why are you telling lies'?"
The 44-year-old said that he resented his ethics and loyalty being questioned while saying that Sri Lankans pursuing coaching opportunities with other countries was result of them being treated unfairly by the national cricket board.
Former Sri Lanka batsman Mahela Jayawardene too had similar problems with the board when he was appointed as a batting consultant by England earlier this year in May, only to call the disapproval laughable.