On the internet, nothing is free. It may appear free, it may be labelled as free, but it's a common misconception to believe technology firms like Google, Facebook and Twitter are giving away a service for nothing in return. These firms do not demand money, they demand something else entirely: You.
We know Google tracks pretty much everything you do online. But now, with a new feature that increases transparency around which data is used for advertising purposes, the firm has rolled out 'My Activity'.
This new option displays a searchable history of the websites you visit, the YouTube clips you watch and the locations you travel to. Creepy or not, for many privacy-conscious users, knowing how personal data is used is a welcome step in the right direction.
"My Activity is a central place to view and manage activity like searches you've done, websites you've visited, and videos you've watched," Google says on its support page. "Your activity is listed as individual items, starting with the most recent. These items might be part of bundles, which group similar activity together."
The feature gives the user greater control over how advertising data is deployed across their devices – be it laptop, smartphone or tablet – and even the ability to block some ads they don't want to see. It also boasts a delete option for users to get rid of their history with ease.
My Activity – which is now rolling out for users, so keep an eye out for the privacy notification – allows enhanced control over ad-preferences. In a move that will likely appease the more privacy-conscious users, giving Google more personal information to use for advertising is now opt-in rather than being turned on by default.
That means if a user does not search out and click 'on' for the new services they will not automatically be included in the service. Of course, Google is urging users to sign up, stressing that doing so will make advertising on the internet more tailored.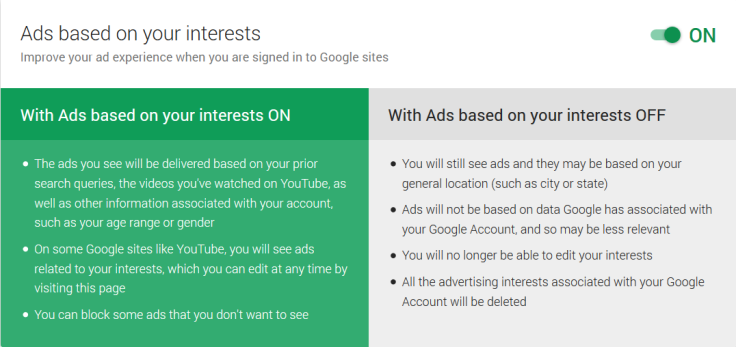 If you visit My Activity and are shocked at the sheer amount of personal data collected – you won't be alone. However, by visiting 'Privacy Check-up' and then clicking 'Activity Controls', Google will allow you to 'pause' much of the data collection options – including location histories, web activity, device information, voice activity and YouTube searches.