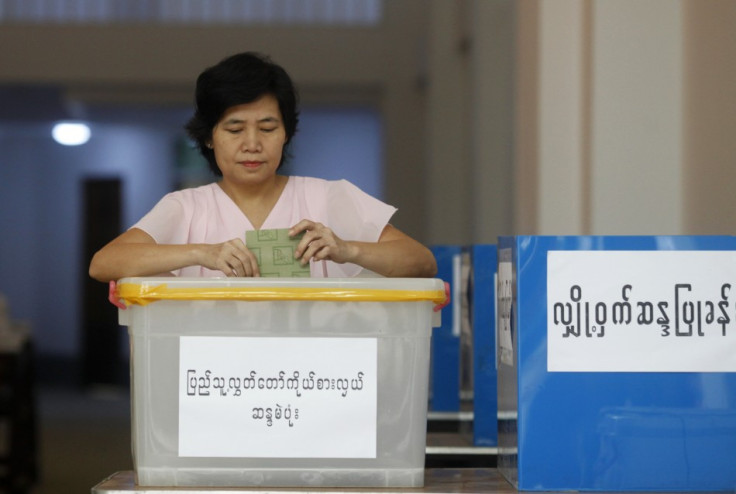 Voting began in Myanmar on early Sunday in the first historic election since the military junta opened the country to reforms.
The byelection is the third election the country is facing in fifty years which is seen in international political circles as a test for the recently introduced reforms and an attempt to seek an end to west-imposed sanctions.
Myanmar has been under direct military rule for the past 49 years when the army took control of the country, which was then known as Burma, through a coup in 1962.
The US and the European Union imposed economic sanctions on Myanmar years ago for its alleged human rights violations.
International observers from the European Union and the Association of South East Asian Nations (Asean) are in the country to monitor the situation and to ensure a free and fair election.
Any violence or disruption to the peaceful conduct of the election may again prolong the lifting of the west-imposed sanctions on the resource-rich nation.
"We're happy to see that everything is going peacefully and we hope that the whole day can be run in a peaceful way," Reuters quoted Ivo Belet, a member of international election observers, as saying.
"We'll make an evaluation later of course on the basis of all the polling sessions that we will be seeing. We will be working all day from this morning until tonight and also try to follow the counting of the votes," Belet added.
Opposition leader Aung San Suu Kyi and her party National League for Democracy (NLD) are widely seen as a clear winner in the election. She is contesting from the constituency of Kawhmu, south of Yangon.
Suu Kyi, the Nobel Peace Prize holding pro democracy leader, was under house arrest for 15 years until November 2010.
The military junta started widespread reforms recently including the release of hundreds of political prisoners, less control on media, engagement of ethnic rebels in peace talks and permission for trade unions to function in the country.
The change of attitude in the military leadership has been rewarded with the recent visit of Hillary Clinton to Myanmar, the first by any US Secretary of State since 1955.
There will be an ease on visa bans and asset freeze imposed by the US and the EU restrictions on investment in timber and the mining of gemstones and metals, once the elections come out as free and fair.