Predicting profit and revenue for MySpace was Rupert Murdoch's "big blunder", claims the social network's co-founder, Chris DeWolfe.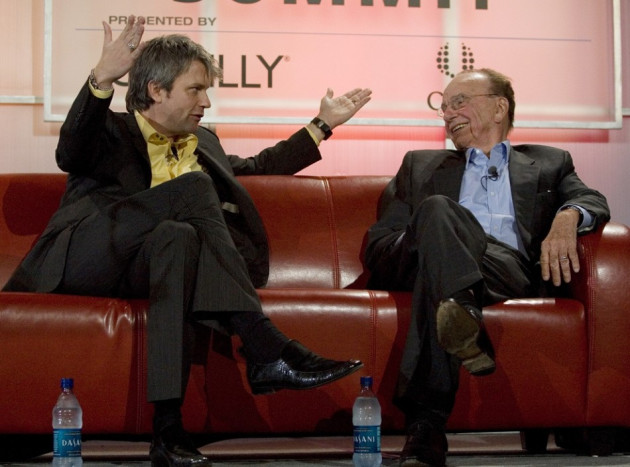 The former chief executive has accused Murdoch, whose News Corporation bought the website in 2005, of ruining MySpace by telling Wall Street investors it would make $250 million (£155m) profit from $1 billion revenue in 2007.
Murdoch "made a big blunder in announcing our potential revenues. He went to [Wall] Street and said, 'MySpace will do $1bn of revenue and $250m profit'. The same year [2007], Facebook lost $250m on zero in revenue. They were building user experience while we were forced to muck up ours," DeWolfe told the Telegraph.
When News Corporation bought MySpace in 2005 it was bigger than Facebook - then just a year old - but Murdoch's company failed to capitalise on this lead.
DeWolfe, 47, accuses Murdoch, whose News UK is the parent company of the Sun, Times and Sunday Times newspapers, of wasting $15bn of shareholder money during his stint owning the social network, sacrificing long-term health in favour of short-term profits.
'Crappy MySpace'
Referencing comments made by Murdoch in a tweet earlier this year, DeWolfe said the 82-year-old "writes on Twitter, 'Crappy MySpace'. Well, if Facebook was worth $20bn or $30bn then [2007], MySpace was worth at least $15bn, so shame on you for letting $15bn go to waste and selling it for $30m a year and a half later."
Look out Facebook! Hours spent participating per member dropping seriously. First really bad sign as seen by crappy MySpace years ago.

— Rupert Murdoch (@rupertmurdoch) May 17, 2013
Having acquired MySpace for $580m in 2005, Murdoch offloaded the website for around $35m to a consortium led by Justin Timberlake in 2011.
Drowning in bureaucracy
While technology startups like social networks are famed for their ability to innovate and change business model quickly, DeWolfe describes how MySpace was drowning in bureaucracy, while rivals like YouTube flourished, happy to run at a loss until it had built market share.
"[YouTube] didn't have any ads at all back then because they wanted to let it run, let it grow. We had the second largest video site in the world after YouTube but we had ads in front of every single video.
"Whenever I asked to reduce them, six months of analysis needed to be done on how much revenue we would lose."
DeWolfe also addressed allegations that he had had an affair with Murdoch's wife, Wendi Deng, who the business mogul is now divorcing. Speaking of the allegations, the MySpace co-founder said: "I didn't think much of it. I was actually more taken aback that they were getting divorced.
"My mum asked me about it - for some reason she didn't see [the allegations] before, or maybe she forgot. But I'd already talked about it with Rupert. He knows it's not true...I worked for him and he came to me and said, 'ignore this stuff, it happens all the time'."