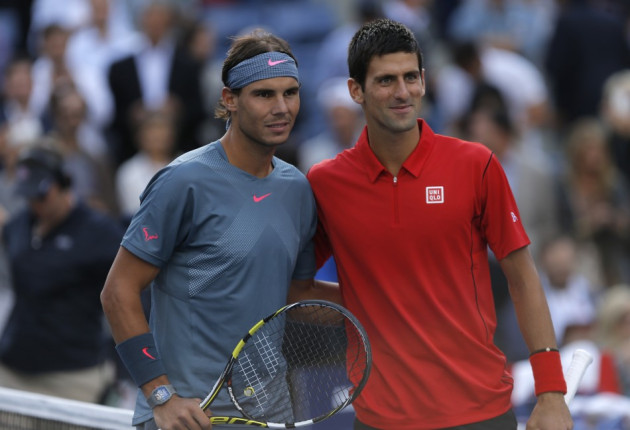 Rafael Nadal takes on Novak Djokovic in the final of the ATP World Tour Finals at London's O2 Arena.
Where to Watch
Rafael Nadal v Novak Djokovic is live on Sky Sports HD3 and BBC Three no later than 8pm GMT.
Preview

The climax to the 2013 tennis season is given the ideal finale as the world's top two players, Rafael Nadal and Novak Djokovic, meet in the final of the ATP World Tour Finals.
Following respective wins over Swiss duo Roger Federer and Stanislas Wawrinka in the semi-final, the season's best two players will collide in London for a 39th time.
Nadal leads the current head-to-head 22-16 but lost the pair's last encounter in Beijing in two sets, while Djokovic, who has won his last 21 matches, was last defeated by Nadal in the US Open final.
Djokovic won each of his three round robin matches in three sets to Federer, Juan Martin del Potro and Richard Gasquet before overcoming Wawrinka, while Nadal's route to a second season's ending final saw him sweep aside David Ferrer, Wawrinka and Tomas Berdych prior to beating Federer in the last four.
After seeing Nadal confirm that he will finish the year as world No.1, Djokovic will be keen to lay down an early marker ahead of 2014, while the tour finals represent the only major title missing from his Spanish opponents' bulging CV.
Despite Nadal holding the advantage across the pair's three indoor matches, all of which came at the ATP tour finals, Djokovic has prevailed in 12 of the 19 hard court meetings.
The Serbian will be seeking to end the year like he started it - at the Australian Open - in winning fashion but Nadal will feel his maiden ATP tour finals title will be the only way to validate his status as world No.1.
What they said
Rafael Nadal: "Every year is different. It's very difficult to say or make comparisons between years. I never did.
"The important thing for me is in the toughest surface for me to play, most difficult one, for me I was able to win four matches against top‑eight players. That's new for me. Is a very good way to finish the year.
"Now remains the last match. I hope to be ready for that. I know it's going to be a difficult one. But I will try my best. I need to play my best match to have a chance tomorrow and I will try. That's all.
"For me every match means a lot, every tournament means a lot. It is true that this tournament is special and I never had the chance to win here.
"So it will be great if any year I have the chance to finish the year with a victory. But I know a lot of work remains, probably the most difficult one. I think if I don't play my best tomorrow, I don't have a chance. I need to play more aggressive.
"I was able to play better and better a little bit every day during the tournament. We'll see if tomorrow I have the chance to play better than what I did. If that's happens, I hope to have my chance."
Novak Djokovic: "Whenever we play each other, it's a huge challenge and we want to win. This is the probably most competitive tournament that we have after Grand Slams in our sport, and we both want to crown this season in the best possible way and end it with a title.
"After the US Open final, I haven't lost a match. I'm trying to take a lot of positive energy out of this confidence and out of this run that I had. I won against him in the finals of Beijing in straight sets and I played a great match.
"I liked the way I improved in our matches. I like that I changed a few things that allowed me to win against him. That's something that I will definitely try to use tomorrow.
"Well, doesn't matter which tournament that we play, whenever we play each other, especially in last few years, there is a lot on the line, and there's so much to play for. It's a huge motivation for both of us to win against the biggest rival.
"We played close to 40 times against each other. As I said, it's very tense. We push each other to the limit.
"We are both having a great season this year. This is probably the best possible final we have here in London. We'll see what happens tomorrow."
Day 1 review: Wawrinka and Del Potro clinch opening wins
Day 2 review: Nadal thrashes Ferrer as Djokovic Outlasts Federer
Day 3 review: Nadal secures world No.1
Day 4 review: Djokovic powers through as Federer Retains Hope
Day 5 review: Wawrinka sets up Djokovic semi-final
Day 6 review: Federer Books Nadal Clash
Day 7 review: Nadal sees off FedererDjokovic thrashes Wawrinka