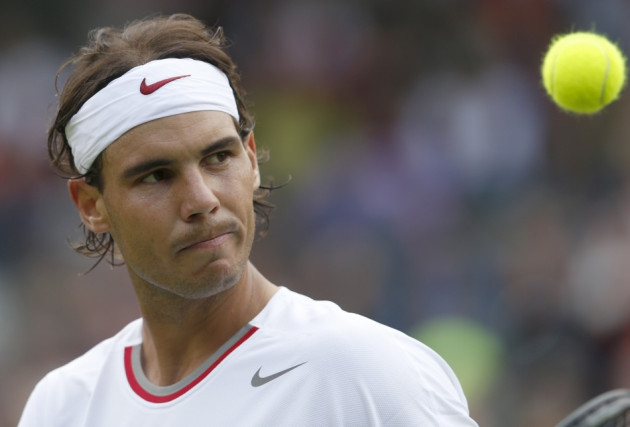 Rafael Nadal was knocked out of Wimbledon in the very first round by relative unknown Steven Darcis just 12 months after he suffered an equally surprising loss to Lukas Rosol in the second round.
The reigning French Open champion was unable to stop the onslaught from the Belgian who consistently took the game to Nadal, playing aggressive tennis throughout as he secured a shock 7-6 (7-4) 7-6 (10-8) 6-4 victory.
Nadal looked uncomfortable at times in the second and third set as he struggled to change direction and put pressure on his troublesome knee. But you could not take away anything from the 29 year old Darcis who has never been past the third round at a Grand Slam.
This was the first time that Nadal had ever been defeated in the first round of a Grand Slam tournament and the crowd was left in a utter state of shock as Darcis showed no signs of nerves to complete victory in just under three hours.
"Rafa did not play his best match here, it is hard when it is you first match on grass. I just wanted to play my own game, coming to the net and not playing far from the baseline. I did not target his knee, tennis is hard enough when you are thinking about yourself," Darcis told the BBC.
"I have always played well on grass, perhaps not here where I have had some tough draws, but I am really happy. I do not know what to say."
Nadal was showing few signs of the injury that would hamper him throughout the match in the first set as the world number 117 forced a tie-break.
The Belgian had threatened Nadal's serve throughout the first set and continued to look dangerous as he unleashed an array of powerful single-handed groundstrokes to secure the first set 7-4 in the tie break.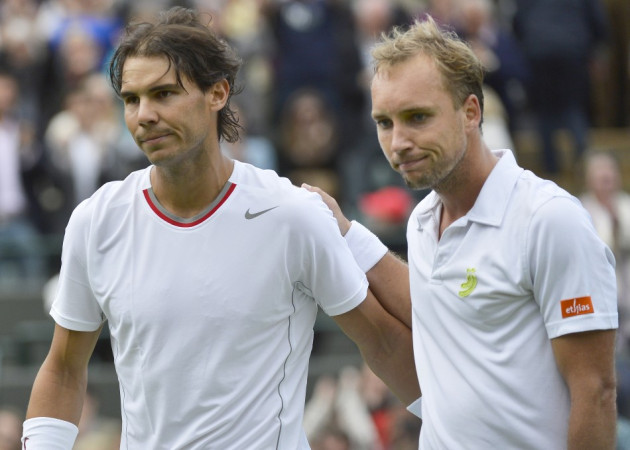 Nadal simply could not engineer a break point against the powerful serve of Darcis who showed few signs of nerves despite the expectant crowd on Court One making plenty of noise.
Finally at 5-5 Nadal was able to put together a run of points to secure a break and serve for the second set. However, he was unable to convert his opportunity as Darcis showed a tremendous fighting spirit to instantly break back and force another tie-break.
Darcis raced into a 6-3 lead but he was unable to convert as he twice hit long, before Nadal secured his first set point which he was also unable to claim. Darcis moved to 9-8 and this time it was the Spaniard who would float a forehand beyond the base line as he went two sets down.
At this point the crowd seemed to sense that Nadal was in some trouble and this was quickly compounded as Darcis secured another break of serve courtesy of a ripping cross-court forehand that left Nadal stranded.
Darcis held his nerve to win his service game and with Nadal failing to carve out a break the Belgian was left to serve out the match.
A superb down the line winner from Nadal raised the idea of a comeback from the fifth seed but it was not to be as Darcis played a magnificent stop volley and then converted his first match point with a booming ace down the middle.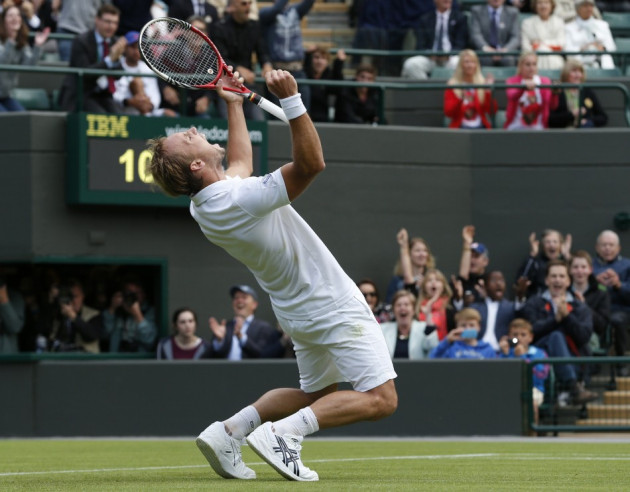 "There were not a lot of good things for me. I tried my best all the time I had my chances but I did not make it. It is difficult to adapt your game on grass. Now is not the right time to talk about my knee. The only thing I can do is congratulate my opponent. It is not a tragedy, I lost, it is sport," said Nadal.
"I'm confident that I will recover and be ready for the next tournaments. I have played far more than I expected after my injury and I will try my best for the next couple of years."