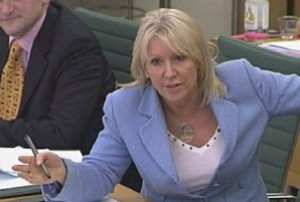 Controversial Tory MP Nadine Dorries has been suspended by the Conservative Party over her appearance in the hit ITV show, I'm a Celebrity, Get Me Out of Here.
New Chief Whip Sir George Young, flexed his muscles by taking action after Dorries announced her intention to take part in the prime-time show.
"George Young has suspended the whip from Nadine Dorries. I will have an urgent meeting with her when she gets back. The concern is that she will not be doing parliamentary or constituency work in the meantime," said a Conservative party spokesman.
Member for Mid-Bedfordshire, Dorries has long been a thorn in the side of the party leadership. She labelled prime minister David Cameron and chancellor George Osborne "out of touch rich boys." She also waded into a debate about abortion, arguing vocally for a cut in the limit on when women can get an abortion.
With Dorries currently out of the country ahead of filming in Australia, the party has time to consider what to do next with its turbulent MP, who holds a 15,000-plus majority in the constituency she won in 2005.