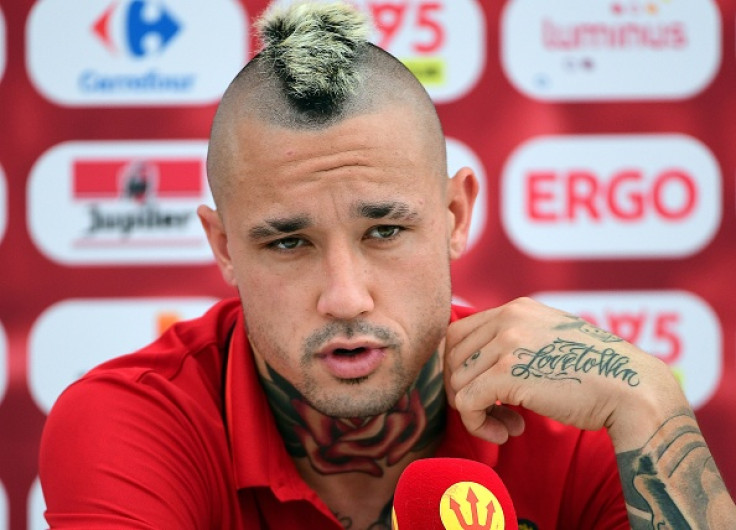 Chelsea's priority midfield target Radja Nainggolan has admitted to holding talks with Antonio Conte over a move to Stamford Bridge in the summer. The AS Roma midfielder has committed his future to the Serie A club until the summer of 2020, but has revealed that a substantial offer from the Blues with regards to the contract offered could sway him into making the switch to the Premier League.
The Belgian midfielder is happy to remain in Italy, where he has spent the last 12 years of his career, but has constantly been linked with a move away. Conte is a big admirer of the midfielder and even tried to sign him during his time as the manager of Juventus, but Nainggolan was not keen to make the switch then. However, he has acknowledged the Premier League clubs' interest this summer and the £30m ($43.5m) midfielder is willing to discuss a move only if the two clubs reach an agreement.
The Italian manager is keen to begin his Chelsea rebuild with Belgium international's signing, but it remains to be seen how far the Blues are willing to extend their offer. The 28-year-old has also revealed talks with compatriots Thibaut Courtois and Eden Hazard, who are urging him to join them in west London.
"He already wanted me when he was the Juve manager, but I'd already said I would never leave Roma for Juve," Nainggolan said, as quoted by the Guardian.
"Now he tries to get me to Chelsea. Conte told me what he expects from me and what type of player I can be for him. I'll never be a player who'll score 20 goals or give 20 assists. I'm not the one who'll be in the picture all the time. I can be important for a team. A manager who appreciates that is important for me. But they [Hazard and Courtois] have also told me to join them."
"I know Chelsea are a big club, but I have to take several things into account," added Nainggolan. "It's not easy to leave Italy behind after 12 years. I need to become better through a transfer, in all ways, so I won't leave for a small difference," the Belgian midfielder explained.