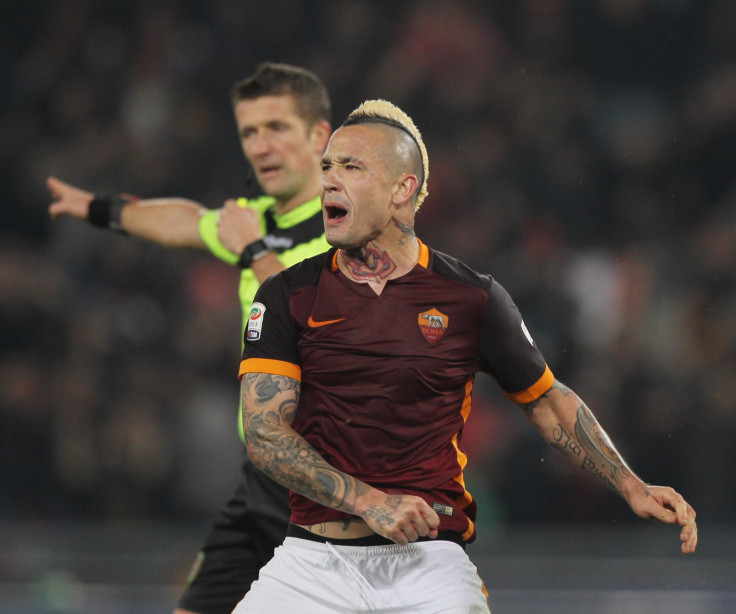 Roma midfielder Radja Nainggolan has confirmed Chelsea are interested in signing him. The sought-after 28-year-old has admitted he is "very happy" in the Italian capital, but revealed that the Stamford Bridge club are actively chasing his signature.
The Belgian – who is valued at around £30m ($43.5m) – said that new Chelsea boss Antonio Conte is keen to add him to his impressive list of midfield options. However, Nainggolan – who has also been linked with a move to Manchester United – has admitted he is not sure if he wants to make the switch to the Premier League.
"They want to strengthen and moreover you have a coach like Conte who has always wanted to sign me", Nainggolan told Belgian magazine Nina of Chelsea's interest.
"There has been contact between the two clubs, but as long as there is no agreement reached, I'll stay well out of it. Chelsea are a great team and it's good to be appreciated by them."
Nainggolan has spent the entirety of his senior career in Italy, playing for Piacenza and Cagliari before he made the move to Roma. Consequently, Nainggolan admits he would be reluctant to leave his adopted home.
"I am very happy at Roma. They appreciate what I do for the club, everyone likes me as a player and a person, so that is very important to me," the Chelsea target explained. "I lead a good life here and there is a nice balance between my football and my family life. It would be a very difficult choice to leave Italy after 11 years."