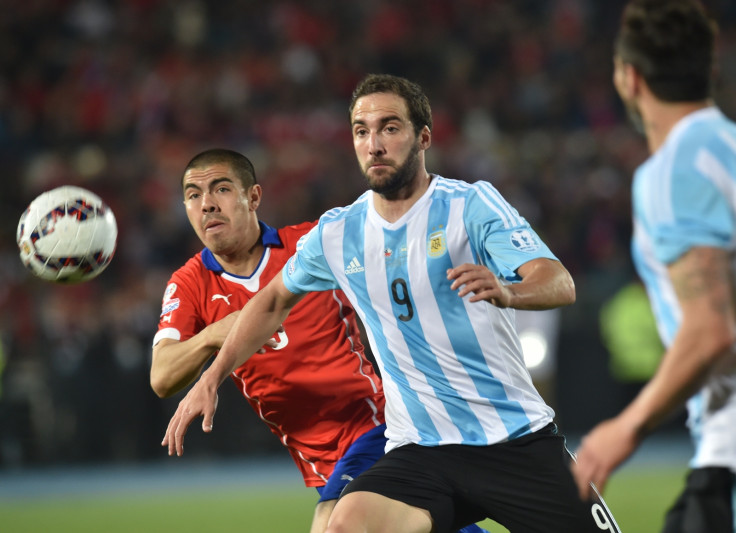 Napoli president Aurelio de Laurentiis has allegedly told a supporter that he would be keen to sell Arsenal target Gonzalo Higuain for €90m (£64.7m, $100.7m).
Italian publication Corriere Dello Sport has reported that Higuain wants to move to the Gunners this summer after Napoli failed to qualify for the Champions League last term.
Higuain has netted 35 league across his two seasons at the Stadio San Paolo, but De Laurentiis says he would be open to selling the club's prized asset for a record fee – giving Arsenal hope they could yet sign the 27 year old.
"Sell Higuain for €90m? I'd like to sell him," De Laurentiis said in a conversation with a fan according to The Independent. "That way I can buy eight players for the club!"
Though it is unclear whether the enigmatic De Laurentiis is being serious with his valuation, it is not the first time he has flirted with the idea of allowing Higuain to leave Naples.
Speaking to La Gazzetta dello Sport in June, he said: "Higuain's future? If a player has a contract this contract has to be respected if a madman arrives and offers to pay his buy-out clause then one must consider it. Otherwise Pipita [Higuain] will remain here."
Arsenal's admiration for Higuain is no secret, after playmaker Santi Cazorla admitted he would be open to either the forward or Paris Saint Germain striker Edinson Cavani moving to the Emirates Stadium.
"The truth is that speaking about Cavani and Higuain is speaking about goals," he told Fox Sport. "They are two players who have a spectacular career. I do not know whether the rumours [about them joining Arsenal] are true.
"I know both of them from watching them playing and with Pipa [Higuain] I have a good relationship. I wish them all the best if they come to Arsenal."
Olivier Giroud and Danny Welbeck led the Arsenal attack last season, but the French forward came in for criticism from club legend Thierry Henry over his contribution – swelling the perception that the club need another forward to bolster their title chances.