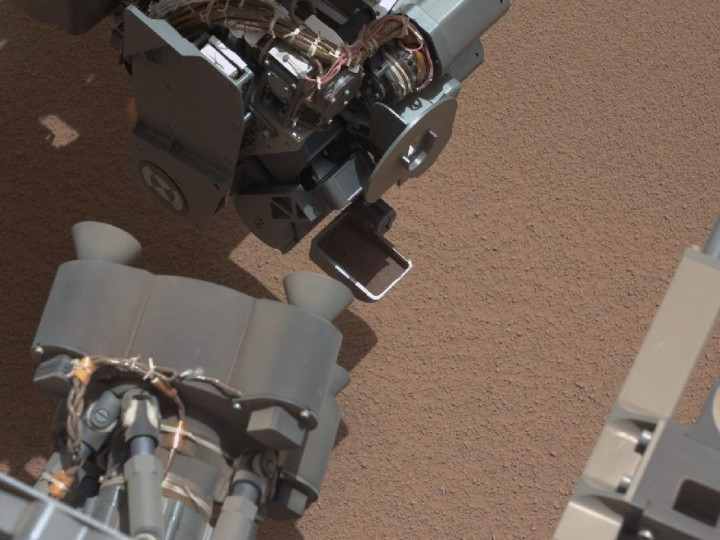 After having found evidence of water on the surface of Mars, Nasa's Curiosity rover has now provided another breakthrough for the space agency's Mars Science Laboratory (MSL) mission.
The Curiosity rover has reportedly found a bright object buried in the Martian surface, after its first scoop of the planet's soil on 7 October. Scientists remain very cautious, speculating it could be nothing more than a piece of the rover itself that had fallen off and refused to comment without a proper investigation.
"Team spotted bright object on ground near me-possibly a piece of rover hardware? Gathering more data [info]," Nasa tweeted on the official account of the Curiosity rover.
Scooping has been temporarily halted while the process of identification of the object and possible impact on the mission is completed.
"Curiosity's first scooping activity appeared to go well on Oct. 7. Subsequently, the rover team decided to refrain from using the rover's robotic arm on Oct. 8 due to the detection of a bright object on the ground that might be a piece from the rover," Nasa said in a statement, adding, "Instead, the rover was instructed to acquire additional imaging of the bright object, on Sol 62, to aid the team in assessing possible impact, if any, to sampling activities."
The Curiosity rover's robotic arm lifted a scoop of sand and dust, digging a small hole 1.8in (4.5cm) wide and 2.8in (7cm) long on the planet's surface. This was the first activity designed to test the rover's sample-handling mechanism, which includes collection, sifting and portioning of the sample.
"On the mission's 61st Martian day, or sol (Oct. 7, 2012), NASA's Mars rover Curiosity used its soil scoop for the first time, collecting a scoopful of sand and powdery material at the "Rocknest" site. Imaging verified collection of the sample," a RSS feed explaining the rover's mechanism read, "Curiosity's Collection and Handling for In-Situ Martian Rock Analysis (CHIMRA) device, on the robotic arm, includes the scoop and the mechanism for sieving and portioning samples of soil and powdered rock."
Once the mystery surrounding the shiny object is settled, scientists will continue scooping. They hope to find clues to microbial life in the samples. For the next task, as part of the mission to uncover more data on whether Mars ever had an environment to support microbial life, the rover will be directed to collect similar powdered samples from Martian rocks with the help of a percussive drill.
Meanwhile, a video here shows the rover's first scoop of Martian soil and the bright object it detected...