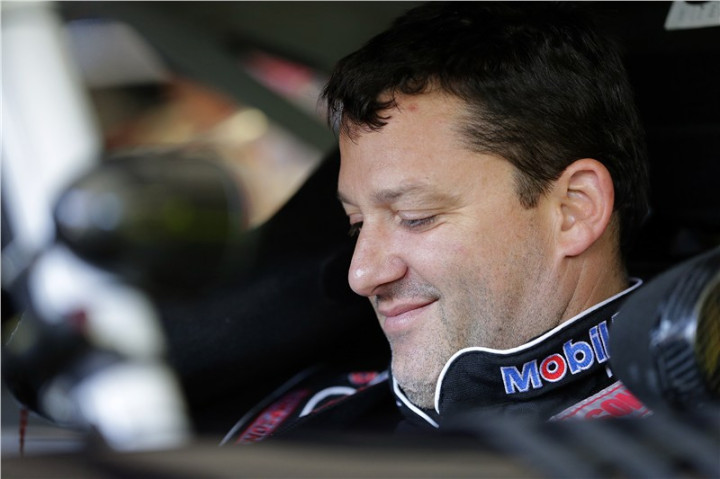 NASCAR driver Tony Stewart is under investigation after he hit and killed another racing driver during a dirttrack race in New York State.
The incident occurred on Saturday night at the Lucas Oil Empire Super Sprint at the Canandaigua Motorsports Park.
Witnesses said that 20 year-old Kevin Ward Jr had been in a collision with Stewart, who had clipped Ward's car, which lost control and hit the wall during lap 14 of a 25-lap race, according to Philip C. Povero of the Ontario County Sheriff's Department.
Ward Jr was hit by the three-time Nascar champion as he passed the spot on the next lap.
"Stewart has fully cooperated with investigation," Povero said. "He acknowledges the collision with the driver."
Footage posted on YouTube shows Ward got out of his car after the crash and walked on the track, where he was hit by Stewart's car, authorities said. He was taken to a hospital and later died.
"It happened in Turn 2," Adam Dulski told USA Today. "The prior lap, Tony had gotten into him – just spun him, nothing big, just spun him around. The caution came out. He hopped out of the car – the driver of the 13 [Kevin Ward]… he hopped out to go and yell and point a finger at Tony, typical thing.
"Tony came around... the back end slid out, and he definitely caught him – I couldn't tell if it was with the front or the back of the car. The body made contact with the car and went sliding across the track a long distance, at least 50 feet. It was the worst thing I've ever seen."
Stewart's spokesman Mike Arning said: "A tragic accident took place last night during a sprint car race in which Tony Stewart was participating. Tony was unhurt, but a fellow competitor lost his life. Our thoughts and prayers go out to his family and friends."
Warning: video shows graphic footage of the fatal collision.