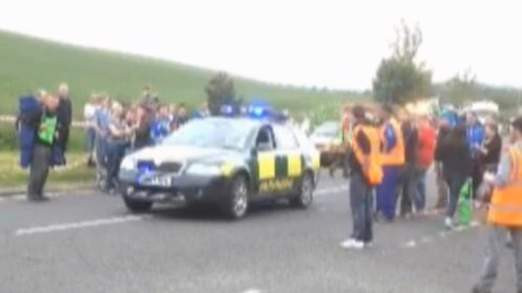 Police have now confirmed that three spectators have been killed and six others injured in two seperate accidents at a Scottish motoring event .
A police statement said: "Three people died this afternoon after a car collided with spectators at the Jim Clark Rally near Kelso at around 4pm. Three people were pronounced dead at the scene of the 4pm incident. A fourth person was taken to hospital in Edinburgh. In an earlier incident at 2.05pm, a rally car collided with five people. Four were treated at scene, the fifth person taken to hospital."
A vehicle taking part in the Jim Clark Rally is said to have crashed into a crowd of spectators off the road at Little Swinton, after losing control.
Describing the scene an eyewitness, Tony Cowan, said: "It was just one car which lost control. It went sideways one way and then to the other side of the road and ploughed into four people.
"It was terrible, absolutely terrible. I ran to help but there was little I could do. The air ambulance arrived after about three quarters of an hour. There were police cars and ambulances. It was chaos, just chaos."
Another eyewitness wrote on Facebook: "Huge accident at rally. Not far from us. About 15 emergency vehicles here now and about 40 people stood working on the injured. Not good."
Police Scotland said the event had been cancelled with immediate effect. Organisers of the Jim Clark Rally were said to be "too upset to speak".
The annual rally takes place over three days on closed roads in the Duns and Kelso areas of the Borders.
The event is named after Scottish Formula One driver Jim Clark, who died while motor racing in Hockenheim, Germany, in 1968.