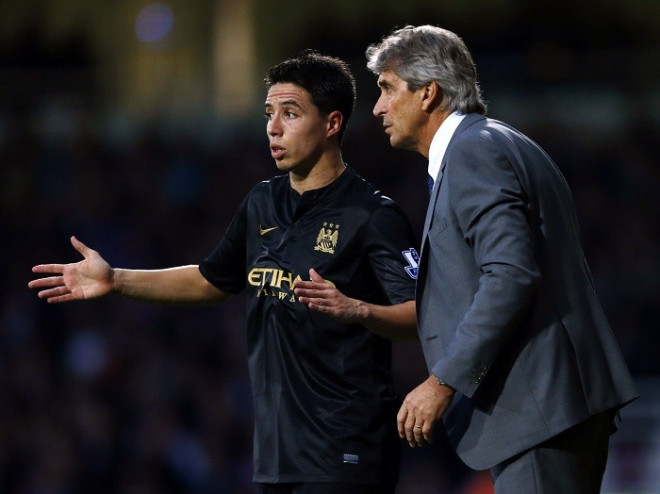 Manchester City star Samir Nasri has warned Barcelona they must not believe they are already through to the quarter finals of the Champions League, even though they hold a commanding lead over the English club going into tonight's last 16 second leg.
Barcelona won the first game 2-0 in Manchester, leaving City requiring a minor miracle to progress. But Nasri believes it can be done.
He was quoted by Spanish daily Marca as saying: "We know that if we go out to the pitch to defend, we will die, and if we go to attack like crazy, it will be like suicide.
"We have to reach the 0-2 as soon as possible keeping a clean sheet.
"The Camp Nou is very large and we have to use it. We cannot fail with the possession and can't misplace passes. It does not matter how silly it may seem but these can be the key to get a good result for us."
The midfielder was asked about his feelings after the first leg match and he said: "If we had been playing eleven against eleven, perhaps things would have been different.
"We deserved more. We had a really good first half as we created chances and fought for possession. Then, after the controversial challenge between Martin Demichelis and Leo Messi, all changed radically.
"It could be the defender's fault, outside the area though. Red card? OK. Penalty? No. Everything was very hard for us."
Nasri admitted he was shocked about Barca's defeat by Valencia and warned of City's power, saying: "No-one should forget that we beat Bayern Munich this season, easily the best team in the world right now.
"I think Barcelona, as demonstrated in Manchester, have great quality but the Germans are very strong."
Star Sergio Aguero will be back to face Barca and Nasri said: "He is a very important player for our attack and will have some chances during the game.
"We have to be a serious team. From that base, anything could be possible."