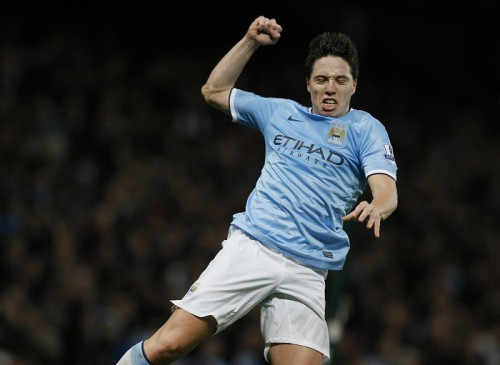 Samir Nasri has insisted that he didn't leave Arsenal for the money, arguing he has always believed in the long-term success strategy at Manchester City.
As the attacking midfielder entered into the final 12 months of his deal with the Gunners in 2011 the 26 year old forced Arsene Wenger's hand and pushed for a move to a side who were seen to be surpassing Arsenal in terms of their challenge for silverware.
Wenger's side have made huge strides in their bid to win their first Premier League since 2004 after breaking the bank to purchase Mesut Ozil but Nasri says that he made the right choice leaving the club for the 2011/12 champions and didn't do so because his pay packet increased.
"Those who are allowed to say that I was gone for the money do not understand and are embittered," he told BeIN Sports.
"Say that when I went to join Carlos Tevez, David Silva, Yaya Toure, Joe Hart, Vincent Kompany ... I made ​​a choice about life, I believed in the project, a sports project on the exceptional long term, with a training centre that will be built soon."
Nasri has endured a difficult relationship with Arsenal fans, having complained as they booed him on the pitch while he was finalising his deal to move to City and then telling supporters to move on after he won the title with his new club.
The France international's fortunes at the Etihad Stadium have been mixed and during City's win over Newcastle he suffered a serious knee injury that could keep him out for the rest of the season and possibly the World Cup in the summer.
Pellegrini said on Sunday that the side are waiting on results before planning how long Nasri will be out for, telling reporters: "It's bad, but we will see on Monday how serious it is."