Mixed Martial Arts (MMA) fighter Nate Diaz could find himself in trouble for using a vape pen shortly after his five-round loss against Conor McGregor at UFC 202 on 20 August. The United States Anti-Doping Agency (USADA) is currently investigating the use of a vape pen for potential anti-doping violations.
The incident occurred during the post fight press conference – with Diaz suffering a majority loss at the hands of McGregor –where the American was seen openly using a vape pen.
"It's CBD. It helps with the healing process and inflammation, stuff like that. So you want to get these for before or after the fights, training. It will make your life a better place," Diaz said at the conference.
Cannabidiol which was present in the vape pen is one of 113 active cannabionids in cannabis. They are banned in-competition by the World Anti-Doping Agency (Wada) code over a certain usage, with in-competition considered to be six hours before and six hours after a fight. As it stands Diaz's post-fight press conference was within the six-hour time frame.
"I can confirm that USADA is aware of the situation and is currently gathering information in order to determine the next appropriate steps," a spokesperson for the anti-doping agency told MMAFighting.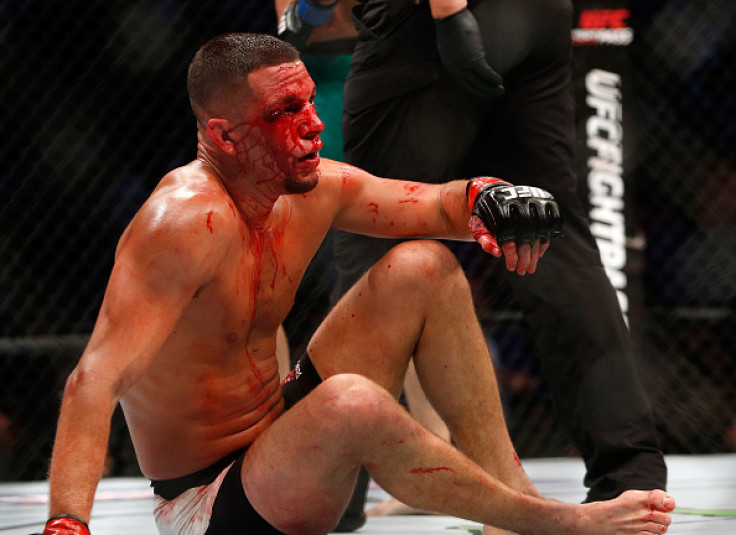 If the agency rules that Diaz used the CBD oil within the time-frame he could face up to a one-year suspension. Although Diaz has never failed a drug test in his career, his older brother Nick, the welterweight fighter has three marijuana offences against him in the state of Nevada. He recently completed an 18-month suspension for a third marijuana-related offense. Nick is still under suspension as he still owes the Nevada Athletic Commission $75,000 (£56,798) in fines.