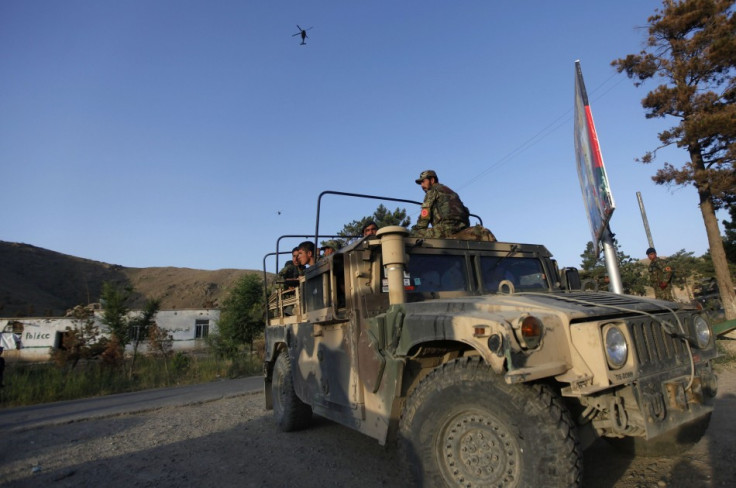 Five Nato soldiers were shot and wounded near the Afghan capital Kabul when a man in Afghan military uniform opened fire at them.
The condition of the soldiers remains unknown and all of them have been taken to hospital.
The wounded soldiers were believed to be Americans as further investigations into the incident were under way.
"The Americans were standing on the other side of us while we were standing with a translator. Suddenly the Afghan soldier aimed his machine gun on them and started shooting," the Associated Press quoted a witness, Eman, as saying.
The witness said that the wounded soldiers were taken by helicopters while the attacker immediately fled the place.
The attack took place in Wardack province in the eastern side of Kabul. Nato remained tight-lipped about the attack neither disclosing the exact location nor the condition of the assailant.
Attacks on Nato soldiers in Afghanistan are increasing in recent times and have been dubbed as "green-on-blue" attacks.
Since the start of this year, there have been as many as 19 attacks on Nato soldiers camped in Afghanistan and according to an AFP count, 26 coalition troops have been killed.
"An individual wearing Afghan army uniform turned his weapon on coalition soldiers yesterday (Tuesday) and wounded five," Colonel Jimmie Cummings, Nato spokesman was quoted by AFP as saying.
Afghan army officials confirmed the attack. "A man wearing our army uniform opened fire on the coalition soldiers, wounding five soldiers. The attacker fled the area and we're investigating the incident," said an Afghan defence ministry spokesperson Dawlat Waziri, the report stated.
Just a few days ago, three British soldiers were shot dead by Afghan police.
As soon as Pakistan announced it would open supply routes to Afghanistan, the Pakistan Taliban retaliated saying it would attack passing troops.
The 130,000-strong Nato troops are to withdraw from Afghan soil by the end of 2014 while some of the countries including France have declared an early pullout.
More than 200 foreign soldiers have been killed since the beginning of this year in various attacks.