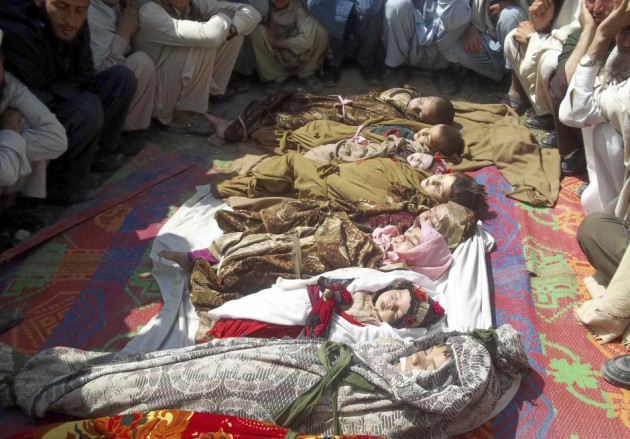 A Nato-led airstrike in the Kunar province of eastern Afghanistan has killed many people including 11 children.
The joint operation between Afghan forces and the Nato troops was targeting the Taliban insurgents in the restive province located at the bordering region with Pakistan.
Afghan President Hamid Karzai has issued a statement condemning the latest attack.
Karzai "strongly condemned the ISAF air strike in Kunar that killed 11 children." The statement went on, "The president, while condemning the use of civilians as shields by the Taliban, denounced any kind of operations that cause civilian deaths."
Reports suggest no less than 18 were killed in the attack which include many women. There were conflicting reports on the exact death toll.
Local government's spokesperson, Wasifullah Wasifi told Aljazeera, "We confirm a raid done by Afghanistan's intelligence service in the district of Shigal. In this raid, the security forces killed 20 Taliban in which 10 of them are very senior Taliban members."
Another local resident named Haji Malika told the BBC, "The fighting started yesterday morning [Saturday] and continued for at least seven hours. There were heavy exchanges between both sides. The area is very close to the Pakistani border and there are hundreds of local and foreign fighters, mostly Pakistanis, in the area."
Nato has earlier confirmed using "fire support" during the operation although no deaths have been reported.
The Nato-led International Security Assistance Force (ISAF) said in a statement, "We are aware of an incident yesterday in Kunar province in which insurgents engaged an Afghan and coalition force."
It added, "No Isaf personnel were involved on the ground, but Isaf provided fire support from the air, killing several insurgents. We are also aware of reports of several civilians injured from the engagement, but no reports of civilian deaths. Isaf takes all reports of civilian casualties seriously, and we are currently assessing the incident."
The civilian casualties have been a huge cause of concern during the fight against Islamic militant outfits in the Afghan-Pakistan border region, which is considered to be a safe haven for the insurgents.