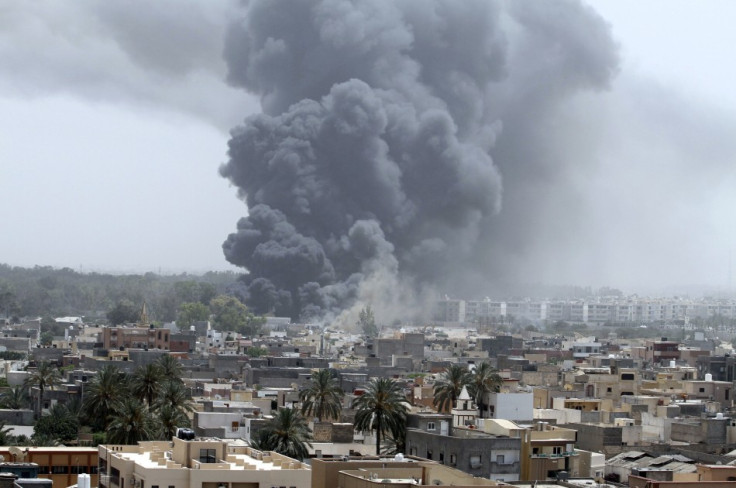 Nato warplanes resumed daytime strikes on targets in the Libyan capital Wednesday despite alliance member Italy calling for the "immediate suspension" of hostilities in the North African nation.
At least two explosions shook Tripoli before noon as fighter jets soared overhead. It wasn't immediately clear what had been hit or if there were casualties.
In Rome, the Italian foreign minister called for a halt in fighting so aid corridors could be set up.
Franco Frattini said "the humanitarian end of military operations is essential to allow for immediate aid," including in areas around Tripoli and the rebel stronghold of Misrata.
The politician also expressed concern over civilian casualties, referring to "dramatic errors" in the bombing campaign.
"With regard to Nato, it is opportune to ask for more detailed information on results" in the attacks, he said in comments to a parliamentary commission that were carried by Italian news agencies.
As Nato's daily airstrikes are coming under increased criticism by International community leaders and anti-war activists it is difficult to understand why the Alliance continues to insit on imposing its military power. The airstrikes have repeatedly killed rebels fighters and civilians, Tripoli is now partly destroyed and its inhabitants are terrorised.
Nato has acknowledged it may have struck a residential building and caused civilian casualties in Tripoli earlier this week and hammered a compound belonging to a close Qaddafi associate and killed what Libya says was 15 civilians, including at least three children. However by continuing with more bombardments the Alliance will only continue alienating the Libyan population and will certainly not gain their confidante or support.
The Guardian newspaper has also quoted Arab League head Amr Moussa as calling for a cease-fire and saying now is the time to reach a political solution to the crisis. The newspaper added Moussa also expressed reservations about his support for the Nato bombing campaign after seeing civilian casualties.
After four months of conflicts Nato has failed to balance the situation in favour of the rebels. While they have taken over much of the eastern half of the country and control pockets in the west, including the vital port city of Misrata, about 125 miles from Tripoli the rebels have so far failed to advance further inland. Gaddafi loyalists are still going strong as on Tuesday at least four opposition fighters were killed and 50 others wounded in clashes with loyalist forces in Dafniya, west of Misrata.
The Reuters news agency also reported that four rockets fired by Libyan government troops landed in Misrata for the first time in several weeks before adding that nobody was hurt in the attack.