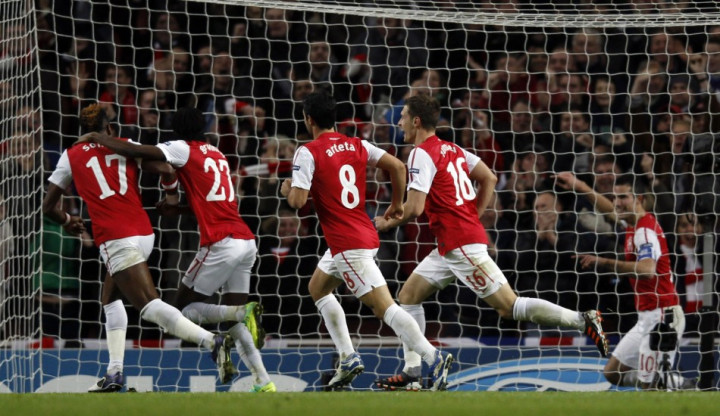 Arsene Wenger praised Robin van Persie after the striker scored twice as Arsenal advanced to the Champions League knock-out phase with a victory at home to Borussia Dortmund.
Van Persie netted his 16th and 17th goals of the season as his golden run of form proveded the Gunners with a 2-1 win over the German Champions.
The Dutch international has now scored 31 goals in his last 34 games for Arsenal as the north London side continue their recover from a dismal start to the season.
Arsenal manager Arsene Wenger hailed van Persie as "exceptional", while his German counterpart Jurgen Klopp described the striker as "one of the best in Europe".
"He [Robin van Persie] is in a period where he doesn't have to look for goals, they just come naturally for him, and he's always in the right place at the right moment," the Arsenal manager said.
"He got two again tonight from positions where it looks easy, but it's not easy, because he understands the game so well. Overall it was a good game.
"Dortmund are a good team. They started stronger than we did, we needed to be patient, intelligent, and I think in the second half we were able to increase the tempo of our passing and control of the game."
Van Persie has been instrumental in Arsenal's renaissance since October. The 8-2 battering by Manchester United was followed by a 4-3 defeat at Blackburn Rovers and September saw the Gunners' mired in 17th position in the Premier League.
However, since the 2-1 loss to Tottenham in the opening days of October, Wenger's side have strung together a nine-game unbeaten streak and the old sense of confidence and purpose has returned.
The reliance on van Persie should not be underestimated but Dortmund coach Klopp believes the striker must be regarded as amongst the best in Europe.
"Robin van Persie, wow, what a performance, what a player. He's certainly one of the best in Europe. I've hardly ever seen a player who plays so deep in midfield and then is such a danger in the box," he said.
"We were not direct enough. We played well on the wings and we had a couple of crosses, but there was just nobody on the other end; so we took the right measures, but Arsenal have an amazing home record in the Champions League and they wouldn't get that without being a really great side."