Seven US Navy Seals have been disciplined for revealing secrets and discussing classified information while being paid as consultants on the Medal of Honor: Warfighter video game.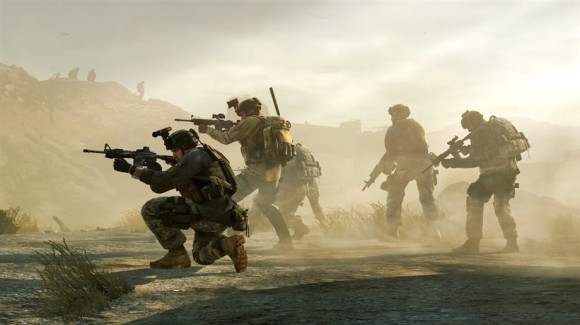 The seven Seals - including one that was part of Team Six, which killed Osama Bin Laden last year - received a letter of reprimand and were docked pay for two months; the men were charged with violations of orders, misuse of command gear, dereliction of duty and disclosure of classified material.
Electronic Arts, publisher of the game, does not recreate the Bin Laden mission, but claims to demonstrate realistic raids of a similar nature in the game.
Deputy commander of naval special warfare command, Rear Admiral Garry Bonelli, said in a statement:
"We do not tolerate deviations from the policies that govern who we are and what we do as sailors in the United States Navy," adding that the punishments "send a clear message throughout our force that we are and will be held to a high standard of accountability."
The Seal's punishment was mainly due to them not asking permission from their superiors to take part in the development of Medal of Honor: Warfighter - work that lasted for two days earlier this year - and that they showed the game designers some of the specially-designed combat equipment which is unique to their unit.
Days after the game went on sale in late October, EA announced that it had not performed as hoped and sales had been "weaker than expected".
US reports say that four other Navy Seals are also under investigation, they have apparently left Team Six, but are still on active duty.
This isn't the first time members of Team Six have been in the news since the raid; Matt Bissonnette, who took part in the mission that lead to the death of Bin Laden, wrote a first-hand account under the pseudonym Mark Owen, but was accused by the Pentagon of disclosing classified information, even before his book was published in September - he disputes the charges.