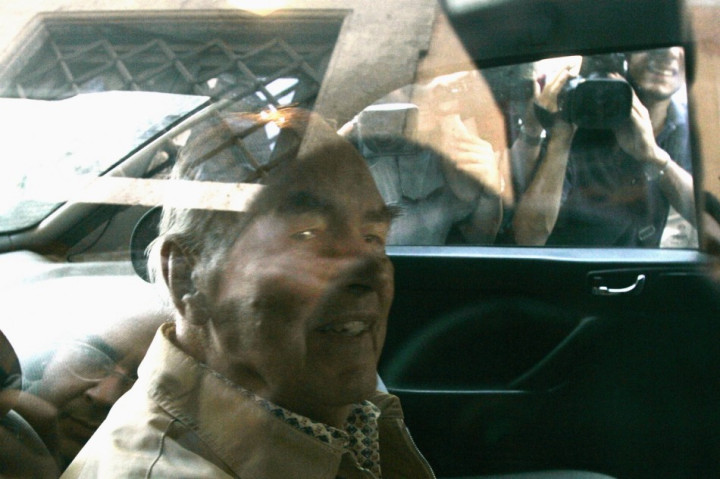 A Catholic order blackballed by the Vatican has allowed the funeral of Nazi war criminal Erich Priebke to be held at its church outside Rome, prompting frenzied protests.
The Society of St. Pius X, whose members included the Holocaust denier Richard Williamson, is to hold the ceremony at its Pius X institute in the town of Albano Laziale, 25km south of the Italian capital. The decision was announced just hours before the service took place.
"There are no implications," a spokesperson for the institute told Italian media. "[The funeral] is a religious celebration that can't be denied to a Christian."
However dozens of demonstrators attacked Priebke's hearse as it entered the gates of the complex, chanting "murderer" and anti-Fascist slogans.
One protester also held aloft a placard with the words "my grandfather kicked your grandfather's ass", a reference to Albano Laziale's pivotal role in fighting Nazi-fascism during the Second World War.
Albano Laziale received a medal of honour for its anti-Nazi efforts, and the town's mayor Nicola Marini, has previously argued that Priebke should not be buried there, as it would be disrespectful to those who died.
Marini promised to do all he could to disrupt the ceremony, telling Ansa News agency: "We are assessing how to avoid Priebke's funerals to be held here, in our town."
He first ordered the streets of Albano Laziale to be closed off to prevent Priebke's body to reach the institute's premises. However provincial authorities in Rome overturned the decision.
"For sure we will not allow burial here as it is within our powers to do so. It [Nazism] is an open wound," Marini said after the Society of St. Pius X made its last-minute venue announcement.
Marini said Priebke's body is to be sent back to Rome and cremated. It's not clear where the ashes are going to be held.
Some local residents also staged a protest in front of the Pius X institute, exposing a banner that read "Priebke murderer".
"They should take him to the nearby dump," SkyTG24 television quoted some protesters as saying.
Police halted a group of neo-Nazis who had arrived in Albano Laziale and were trying to reach the Pius X institute.
Papal Pariahs
Founded by French archbishop Marcel Lefebvre in 1970, the Society of St. Pius X has no canonical status, meaning ministries exercised by its ministers are not considered legitimate by the Vatican.
The order, which opposes reforms of the church made at the Second Vatican Council, fell out with the Holy See when it ordained four bishops without the Pope's consent in 1988.
The four were excommunicated immediately but eventually pardoned in 2009. Among them was Williamson, who denies the Holocaust and the existence of Nazi death camps and gas chambers.
Similar claims were made by Priebke in an interview recorded months before his death, in which he defended Adolf Hitler and the Nazi ideology.
Priebke, a former SS captain, died aged 100 in Rome, where he was serving a life sentence over the so-called Ardeatine Caves massacre.
On 23 March 1944 he oversaw the execution of 335 Italians in retaliation for an attack by partisan troops that had killed 33 German soldiers.
Those executed were shot in the back of the head in the ancient Ardeatine Caves in central Rome. Victims included political dissidents, underage boys, a Catholic priest and about 80 Jews.
Priebke never showed remorse for his crime, nor for the horrors of the Nazi regime.
The Vatican refused him a church funeral, citing a canon law that bars ceremonies for manifest sinners who refuse to repent.
Burial was also denied by Priebke's native town of Hennigsdord, on the outskirts of Berlin, and by Argentina, where the Nazi criminal lived for about 50 years after the war.
Rome's mayor also said he was to ban a public funeral and was echoed by the mayor of the small town of Pomezia, who insisted there was no room for Priebke's body in the local WWII German military cemetery.
To add to the controversy Priebke's son suggested his father should be buried in Israel, sparking the outrage of Jewish associations.
"Clearly, this is a case where the apple did not fall far from the tree. Anti-Semitism transmitted from one generation to another is a phenomenon we are all too familiar with," Abraham Foxman, the national director of the Anti-Defamation League and a Holocaust survivor, told IBTimes UK.
"In this case, it should not be a surprise, since Erich Priebke never expressed remorse for what he did."