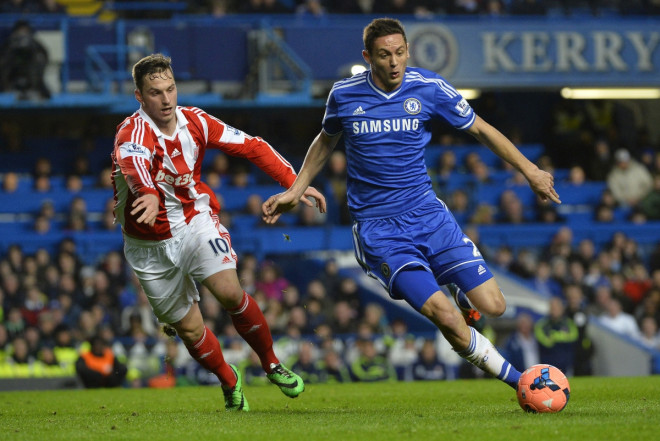 Chelsea midfielder Nemanja Matic has revealed his desire to play under Jose Mourinho was one of the major reasons for his return to Stamford Bridge in January.
The west London club initially signed the midfielder in the summer of 2009. With a plethora of competition for places, he was initially loaned to Vitesse Arnhem before being offloaded to Benfica in January 2011 as a part of the deal for David Luiz.
The Serbian international went on to establish himself in Jorge Jesus's starting XI and Chelsea were once again interested in adding Matic to their roster. The 25-year-old also revealed that he had no second thoughts about returning to Stamford Bridge after signing a five-and-a-half year deal in January this year.
"Mourinho is one of the big reasons why I came back because he is probably the best coach in the world. It's good to work with him and I can improve a lot. I had no doubts about coming back to Chelsea. I spoke with my agent for one minute, and that was it. I didn't need any longer to think about it," Matic told the Daily Mirror.
"I didn't know what my contract was going to be. I just said, 'OK, I'm going back to Chelsea, and we will worry about the details later'. We made a deal, I am very happy. If you ask me about money, I say it is more important to improve as a player, and to play good football in a good league."
Despite being deemed as surplus to requirements at Chelsea, Matic insisted that he had no regrets about leaving the west London club. Instead, he believes it helped him develop his skills as a player during his time with the Portuguese outfit.
"I don't think I made a mistake by leaving Chelsea. I had been on loan at Vitesse Arnhem in Holland when my agent told me Benfica wanted me as part of the Luiz deal. I was happy to go there, it is a big club," Matic added.
"As a player and person, to spend two-and-a-half years with Benfica was a very good ­experience. I didn't realise how big a club it is – they have six million fans in Portugal alone – and now I am grateful that I had the opportunity to play for them, and the opportunity to come back to Chelsea," the midfielder concluded.