A new law in Arkansas bans women from terminating a pregnancy, even if it resulted from rape or incest. The legislation also allows men to sue their wife's doctor for civil damages if she is scheduled to have an abortion.
The Unborn Child Protection from Dismemberment Act was signed into law last week by Arkansas Governor Asa Hutchinson.
The law prohibits doctors from carrying out the dilation and evacuation (D&E) procedure on women who are more than 14 weeks pregnant. The procedure is the safest method for removing the foetus from the womb, according to the American Medical Association, and now carries a $10,000 fine or a six-year prison sentence in the state.
The Arkansas' bill is now the most restrictive in the country, after North Dakota's law banning termination after six weeks gestation was overruled by the Supreme Court in 2016.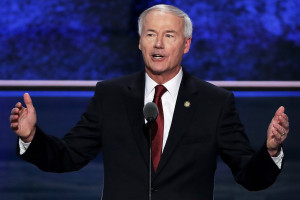 The new legislation in Arkansas also states that a husband can claim monetary damages or injunctive relief from his wife's doctor if an abortion is carried out. The doctor is prohibited from going ahead with the procedure if damages or relief are awarded. Parents can also sue their daughter's doctor if the girl is a minor and has an abortion.
State Republican Andy Mayberry, who co-sponsored the act, said: "We've tried to account for all the worst case scenarios."
The D&E procedure was described in the introduction of the bill as a "gruesome, barbaric procedure." Senator David Sanders said: "You see a baby, an unborn life, a fetus, engaging in a fight or flight reaction to the forceps going into the womb, trying to remove an arm, remove a leg."
The American Civil Liberties Union of Arkansas (ACLUA) plans to appeal and challenge the legislation in court before it takes effect this summer.
Bettina Brownstein, an attorney working with the ACLUA, said: "The law has disturbing provisions that would allow a parent, legal guardian, even a perpetrator of rape or incest, to attempt to enjoin an abortion. The law enables a putative father or legal guardian to attempt to interfere with a woman's constitutional right to terminate a pregnancy. It is clearly unconstitutional."
Similar attempts to overturn the abortion ban in Louisiana, Alabama, Mississippi and West Virginia have been struck down by the courts.