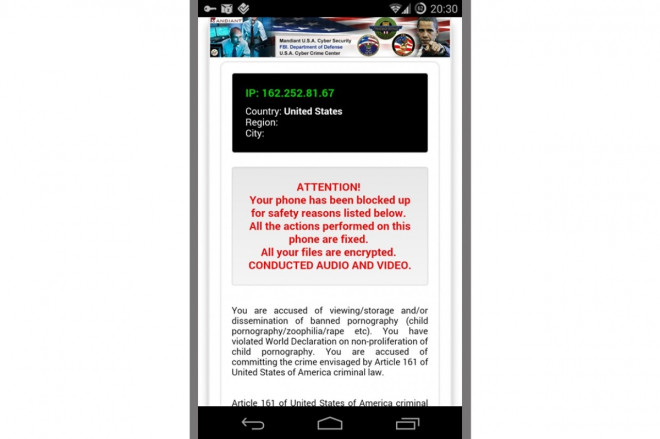 A new piece of computer malware that targets Android phones and tablets has been identified. Using geolocation functions, the Android-Trojan.Koler.A pinpoints the location of users of porn sites, and sends them a fake warning from a law enforcement agency of the country they are in.
For example, the message sent to users of infected phones with US based IP addresses looks similar to warnings issued by the FBI.
The page also claims that the user has "violated World Declaration on non-proliferation of child pornography" as well as flouting copyright infringement laws, warning of possible jail terms for both.
The malware prevents users from accessing the home screen of their Android device, making it impossible to access installed apps.
It demands payment of $300 using untraceable payment systems such as Paysafecard or uKash in exchange for the phone being unblocked.
The malicious package is downloaded when the user visits certain pornographic websites.
"As the user browses, an application that claims to be a video player for premium access to pornography downloads automatically," explained BitDefender in a blog post.
For the malware to take hold, users must change the device's settings to allow out-of-market apps.
Computer security experts at BitDefender believe that the malware is claiming approximately 68 victims every six hours.
Last year, researchers from Symantec said that they believed that so-called Ransomware, which disables machines and demands payment for them to be restored, is responsible for extorting an estimated $5 million a year.
Recently, malware creators have started building strong cryptography into malware. This can hold entire hard drives hostage until payment is made.