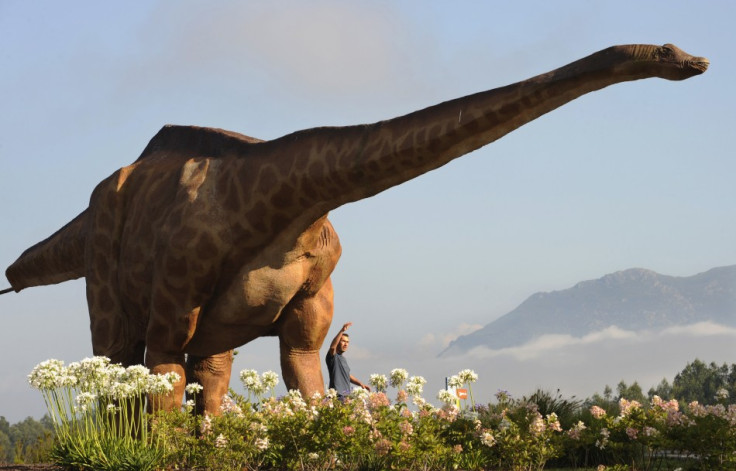 Researchers from the University of Arkansas are studying a new field of fossilized dinosaur tracks, including a set that could be from a large three-toed predator, the university said Wednesday.
The team found the tracks on private land in southwest Arkansas and has explained the findings could provide them with further information about the animals that roamed the area as long as 120 million years ago during the Early Cretaceous period.
"The quality of the tracks and the length of the trackways make this an important site," said Stephen K. Boss, who led the project.
Researchers also studied the rock on which the footprints were discovered which enabled them to learn more about what the climate would have been like, according to Boss.
"Picture an environment much like that of the shores of the Persian Gulf today. The air temperature was hot. The water was shallow and very salty," Boss said.
"It was a harsh environment. We're not sure what the animals were doing here, but clearly they were here in some abundance."
The team also revealed that some of the tracks in the field have never been documented before in Arkansas.
The tracks from the three-toed dinosaur are about 2 feet long by 1 foot wide and are expected to be from an Acrocanthosaurus atokensis, one of the largest carnivores that ever existed.
Other prints include those from sauropods, often described as large, long-necked plant-eating with a small head, blunt teeth, and long-tailed dinosaur.
"Through tracks, we can learn all sorts things about dinosaur biomechanics and behavior," said University of Kansas researcher Brian Platt, who is taking part in the program. "Dinosaur bones can be dragged away by animals or swept out to sea. But we know that about 120 million years ago, dinosaurs walked right through here."
The study was founded by a grant from the National Science Foundation, which allowed for the researchers to study the site for two weeks.
The team has also pointed out the importance of rock samples from the site which they say can also help understand the conditions under which the dinosaurs lived better.
The study will also help researchers calculate how much rain fell and how much moisture evaporated, which will in turn help them better understand the climate in general.
"This site will add to the knowledge of both the animals and climate of the Early Cretaceous," "Scientists will be studying these data for many years, "Boss said.