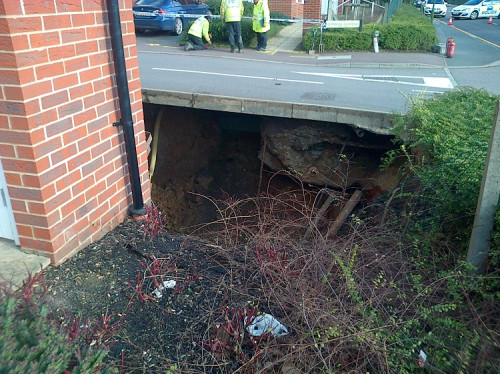 Residents were evacuated from their homes again after another sinkhole was discovered in Hertfordshire.
The 20ft deep sinkhole was found in the back garden of a property in Dugdales, Croxley Green, on Sunday evening at around 6pm, making it the fifth reported sinkhole in the UK within a month.
A house and three flats, within the cul-de-sac were evacuated but residents were able to return to their properties this morning.
Couple David and Ann Hickson were having dinner when the police knocked at their door and asked them to leave.
Mrs Hickson told the Watford Observer: "We didn't know what on earth was going on. The police told us that there had been this happening and, just to be on the safe side, they were asking everybody in the building to vacate."
She returned this morning after a surveyor said it was safe to move back in.
"The police took our names and telephone numbers last night before we left and they said they would let us know, " she added.
"We haven't heard anything from them but the owner of the house next door said a surveyor been round and said it was safe, but we're still not 100 per cent sure what's going on. We feel like we've been left in limbo."
The shock discovery comes only a day after a huge 35ft sinkhole appeared on a corner of road in Hemel Hempstead forcing residents to flee from nearby homes.
Seventeen properties were evacuated but no one was reported injured.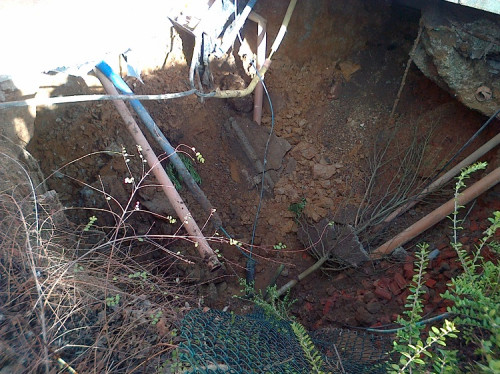 Sinkholes have been appearing across the country following a continued spate of torrential weather. The latest incidents in Hertfordshire are said to be related to high levels of soluble chalk in the ground - making it more vulnerable to sinkholes.
Last week a 10-mile stretch of the M2 in Kent was closed after a 15ft sinkhole appeared on the central reservation near Sittingbourne.
15 foot sinkhole appears on the M2 http://t.co/QWFmsdzWcJ pic.twitter.com/xD9Tkbgfl7

— The Independent (@Independent) February 12, 2014