A large sinkhole has suddenly appeared in a road in Hemel Hempstead, Hertfordshire: 17 properties have reportedly been evacuated but there are no reports of any injuries.
Last week a smaller sinkhole appeared in the M2 motorway near Sittingbourne in Kent and a 30-foot crater appeared in a drive in St Albans earlier this month, swallowing a car which could not be recovered.
Also last week a sinkhole which opened up beneath a Corvette museum in Kentucky swallowed up eight rare cars. In February 2013 a man was killed when a sinkhole swallowed up his bedroom in Seffner, Florida.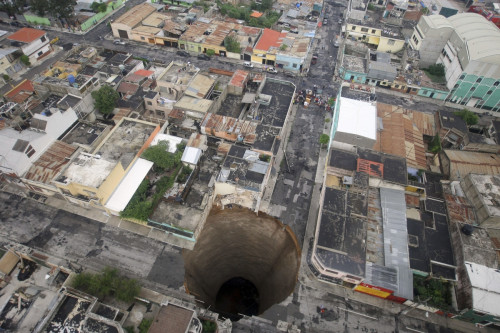 Sinkholes often appear when rain water seeps down through soil to soluble rock such as chalk or sandstone. Over long periods of time – sometimes thousands of years – the water, particularly if acidic, slowly erodes the rock and eventually there is a collapse.