Four more homes have been evacuated after a sinkhole opened up in the back garden of a house in Croxley Heath, Hertfordshire on 16 February.
The previous day 17 homes were evacuated in Oatridge Gardens in Hemel Hempstead as a sinkhole around 20ft deep and 35ft wide was discovered. Officials say the chasm could have been caused by rainwater washing away soil underneath the tarmac, after a night of gales and torrential rain from the latest Atlantic storm hit Britain.
Earlier this month, a 30ft deep sinkhole swallowed a car in High Wycombe, Buckinghamshire. With the phenomenon becoming more frequent in the recent storms, IBTimes UK examines why sinkholes appear.
What causes a sinkhole?
There are several different types of sinkholes, both man-made "collapse subidence" holes and those caused naturally. Chasms occur when soluble rock, such as limestone, breaks down when attacked by acidic rainfall or groundwater.
Vanessa Banks, from the British Geological Survey, told IBTimes UK:
"Collapse subsidence features comprise voids that result from collapse into artificial features, for example, mines (including ancient chalk mines that are referred to as deneholes), mine shafts, old wells, soakaways, former ice-houses, former storage or refuse pits."
Sinkholes also appear when sand, clay or soil covering the soluble rocks beneath are washed away into widened fissures underneath, which leads to a cavity in the overlying material. A sinkhole can occur when sand enters the fissures, which gradually creates a chasm.
A larger, more dramatic "drop out" sinkhole occurs when a material such as clay is washed away, which allows the hole to grow larger before suddenly caving in.
The collapse of a cave passage over time can trigger a sinkhole, while others are caused when flowing water erodes weak, unconsolidated material. A process called "soil piping" removes loose material, which creates large gaps within the sediment.
What can trigger a sinkhole?
Heavy rain or flooding can cause an ordinarily stable cavity to collapse. The recent sinkhole in Hemel Hempstead occurred after an Atlantic storm caused rainwater to flood the area. Ruptured water mains or drain pipes can also cause sinkholes to appear.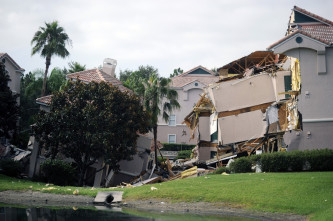 Ms Banks said: "The BGS has been responding to a number of sinkhole-related enquiries. In addition to using BGS datasets we rely on historic maps to interpret these incidents. Over the last couple of weeks these have been primarily in the South and South-East of England. Many are in the chalk.
"Chalk can dissolve naturally over a long period of time due to the infiltration of weakly acidic water. However, we have noted that many of these incidents are actually collapse subsidence features."
Construction can also cause sinkholes, as placing heavy loads on the ground without support and changes to surface drainage can cause voids to appear.
Alterations in the water table level can cause chasms, as drought or water extraction can cause cavities to collapse. Mining can cause the water table level to decrease.
How dangerous are sinkholes?
Hazards include collapsing structures, but can be avoided with appropriate planning and a thorough geohphysical investigation of the site.
Sinkholes can be avoided with good maintenance of drainage infrastructure, or by taking extra precautions when creating structures that might obstruct groundwater flow or levels. Sinkholes may have more of an impact in urban areas, where they are more commonly reported.
Which areas of the UK are prone to the phenomenon?
Residents living in areas with Carboniferous limestone or chalk could pose a risk, such as the Peak District, the Yorkshire Dales and areas of Dorset or Hampshire.
Ripon and the north-east of England are susceptible to sinkholes because of permian deposits of gypsum, which is more soluble than limestone. They also appear in areas with salt deposits, such as Cheshire.