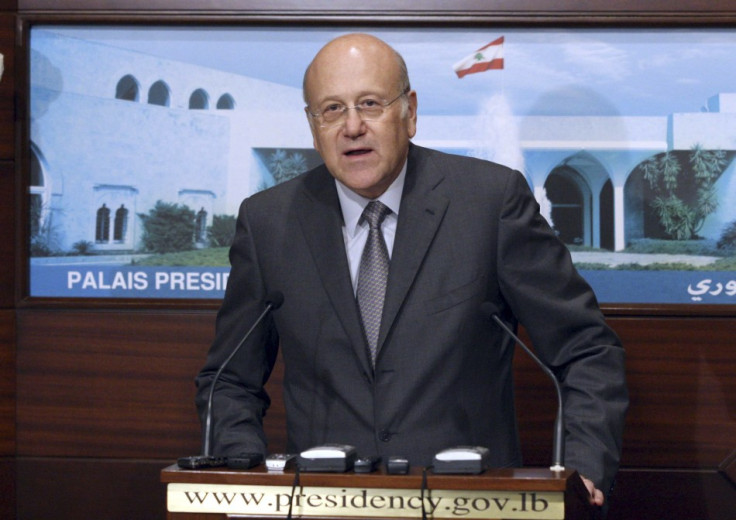 Lebanon's new Prime Minister Najib Mikati, finally announced on Monday the makeup of the long-delayed government, which include various members and allies of the Shiite militant group Hezbollah.
The situation in Lebanon is both complex and fragile as Mr Mikati was appointed in January after Hezbollah and its allies toppled the Western-backed government of Saad Hariri in a dispute over the investigation of the killing of Mr Hariri's father, Rafik, a billionaire and former prime minister.
The country found itself without a government for five months, revealing the extent of the political divisions and an inability to overcome political divergences and dysfunctions affecting the territory.
Since the region is currently troubled and prone to violent unrests, the news was at first well received.
As political rivalries and deep rooted sectarian divisions were exposed, it became clear that Lebanon is still at war over questions ideology, the power of foreign patrons and which community should have prominence in country's political landscape.
As the cabinet was announced, many expressed relief, hoping for a respite from the crises that have marked Lebanon since Mr Rafik Hariri's assassination in 2005.
It was announced that the Cabinet's majority is made up of the Hezbollah-led March 8 coalition, and Mitaki was quoted as saying by the Lebanese Daily Star that the "government will be a government for all Lebanon and will work for all the Lebanese people without discrimination."
However drama struck once again as only a couple of hours later, Talal Arslan, a state minister in the new cabinet, announced his resignation, accusing Mr Mikati of being a "liar" and of seeking to deprive the minority Druse of key cabinet posts. Accusations of lies and illegitimacy once again landed on the political scene and managed to interfere and jeopardize the political processes.
During a rather shambolic news conference, Mr Arslan also accused Mikati of creating tension among political allies.
"I announce my resignation from the government of Najib Mikati, as it would shame me to sit on his right in a government he presides over," said Mr Arslan.
He insisted his decision was governed by the government's inability to offer more prestigious and important ministerial positions for the Druse, who make up less than ten per cent of Lebanon's population, which is itself divided among 18 sects and religions.
In order to overcome the differences, by custom, power is allotted among three different groups , with the presidency allocated to Maronite Catholics, the post of prime minister to Sunni Muslims and that of speaker of Parliament to Shiite Muslims, the largest group in Lebanon.
As the government started to crumble so soon after its formation, political analysts now fear even more tumult. While some cite the resignation of Arslan as a sign that the country could sink deeper into political chaos, others insist that it is instead the preponderance of Hezbollah and its allies, along with the virtual absence of Mr Hariri and the forces he still represents, that could potentially result in more crises.
"This is not going to be a long-term government," said Sateh Noureddine, a columnist with the newspaper As-Safir. "Hezbollah wanted to form a government to move well beyond the Saad Hariri era, by any means."
Explaining the reasons that led Saad harriri to categorically refuse to be a part of the government, Nouhad Mashnouk, a lawmaker from Mr. Hariri's parliamentary bloc said, "This is a confrontational government," "The Syrians declared the political confrontation. It is very obvious they are partners in the decision."
On the other hand since his appointment, Mr Mikati has gone to great lengths to paint himself as a consensus candidate who would avoid being beholden to Hezbollah, the most powerful force in Lebanon.
Despite his effort not to be distance himself from Hezbollah, Mr Mikati raised alarm bells yesterday, as he said, when announcing his new cabinet the Baabda Presidential Palace, "Let us go to work immediately according to the principles and basis that we have affirmed our commitment to several times, namely ... defending Lebanon's sovereignty and its independence and liberating land that remains under the occupation of the Israeli enemy,"
It might be however that the Prime Minister's sentence was just another rhetorical line aimed at gaining the sympathy and support of pro-Palestinian activists since last month Lebanon stood clear of supporting the anti-Israeli demonstration at the Golan Heights and declared its frontiers a closed zone.
In a more worrying move however, President Bashar al-Assad of Syria, who is accused of violently crushing protests in his country, welcomed the new cabinet. Even though Syria was forced to withdraw its troops from Lebanon in 2005, after a 29-year military presence, it still remains the most influential foreign country on the territory.
Mr Assad's compliment was soon reciprocated when Mr Mikati, in turn, promised to pursue good relations with Syria.
"This government is committed to maintaining strong, brotherly ties which bind Lebanon to all Arab countries, without exception," Mr Mikati said.
If the government manages to survive and to overcome disagreements, one of its main tasks is to find a unified position on the United Nations-backed tribunal, which is expected to issue indictments that will implicate members of Hezbollah in the killing of Mr Hariri in 2005.
The group has denied any involvement in the bombing and wants the new government to stop backing the tribunal. The new cabinet however must still win a vote of confidence from Parliament.
Commenting on the new cabinet, State Department spokesman Mark Toner said the United States will judge the new government "by its actions" and urged it to support the UN tribunal investigating the assassination of former Prime Minister Rafiq Hariri, while the United Nations Special Coordinator for Lebanon Michael Williams echoed the U.S when he said:
"Today's formation of a new Council of Ministers, after months of consultations, is a very important development for Lebanon. A new government will enable the country to address the manifold challenges facing the country, whether economic, political or security," Williams told reporters.
"In my discussion with Premier Mikati this afternoon, I expressed the expectation that his government will reiterate its support for the implementation of Security Council Resolution 1701 and its commitment to Lebanon's international obligations," he added.