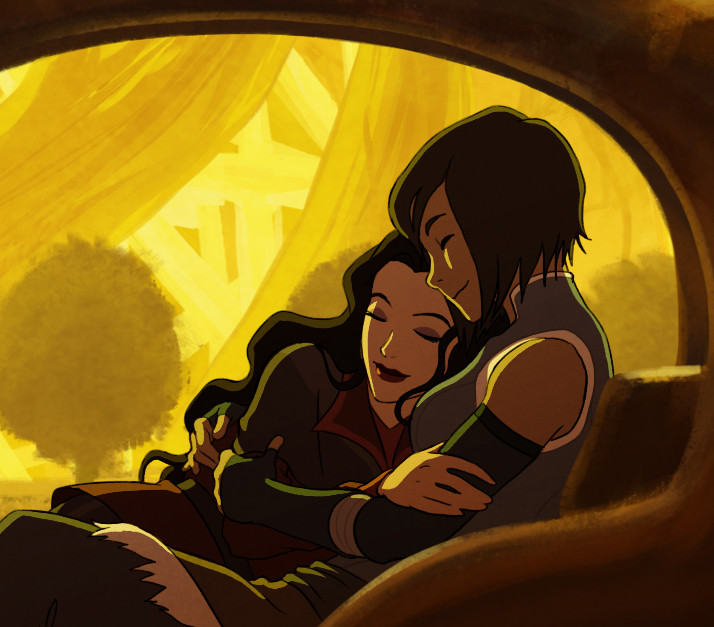 There is still hope for another Korra series from Nickelodeon as Michael Dante DiMartino and Bryan Konietzko have previewed the first issue of their highly anticipated comic book series The Legend of Korra: Turf Wars. The comic book focuses on the romantic life of Korrasami.
This is the first in a trilogy, which will focus on Avatar Korra and her long time friend Asami Sato's relationship and begins right where season 4 ended. The finale of the Nick series featured a major confrontation between the successor of Aang and Kuvira.
During her attempt to bend the energy to foil Kuvira's arm canon, a giant opening was formed between Earth and the Spirit World. The show ended with the Avatar and her friend walking towards the light beam while accepting their same-sex relationship.
The story will begin right after that historic Korrasami lesbian moment as the couple will be seen vacationing in the Spirit World. "Welcome to the Spirit World. The Spirit World is a pretty unpredictable place. You never know when the ground might drop right out from under you, so stay close. I don't want us to get separated," Korra tells her love in the first chapter of the newly-released issue.
But their romantic outing will not last long as they will be in for yet another adventure. The gap between the two worlds will create a crisis back in the Republic City and only the Avatar would be able to save the day.
"Korra has to figure out how to find a new balance in the city with all this stuff that's gone on. It's gonna take place right after the finale, so it's focusing on Korra and Asami's relationship as a new threat emerges. It's kind of like the aftermath dealing with the new portal in the city, and all the evacuees coming back to find their homes wiped out because of the portal," DiMartino told EW.
Season 4 of the Nick animation show surprised fans with the final scene where Korrsami silently elevated their relationship from best friends to lovers. "Our intention with the last scene was to make it as clear as possible that yes, Korra and Asami have romantic feelings for each other. The moment where they enter the spirit portal symbolises their evolution from being friends to being a couple," Dimartino said in his official blog.
With the release of the new book, fans are optimist that Nick could also consider working on Legend Of Korra season 5.