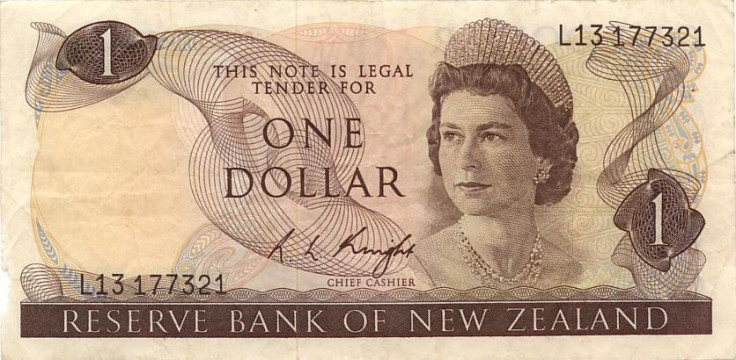 The New Zealand dollar plunged to a three-week low on Wednesday as higher than expected unemployment rate suggested the Reserve Bank will follow suit of its neighbour in Australia by cutting rates at the next meeting.
Employment change in the first quarter of this year was a 0.7% increase for New Zealand, much less than previous quarter's 1.2% increase and trailing market expectations of a 0.8% rise.
The unemployment rate stood at 5.8% as the Q4 rate was revised up to the same level from 5.7% in prior reading and against the market consensus of a drop to 5.5%.
The growth in the labour cost index too declined to 0.3% from 0.5% when the consensus was for 0.4%.
NZD/USD fell to 0.7459, its lowest since 14 April, from the previous close of 0.7559.
The Kiwi dollar had ended April at 1.9% higher, but in less than a week in May, the currency declined more than 2%, entirely reversing the previous month's gains.
The Reserve Bank of Australia slashed the official cash rate by 25 basis points to a new record low of 2% on Tuesday citing increasing downside risks to growth and inflation. It was the second cut in 2015 adding to the 25 basis point reduction in February.
The New Zealand central bank on the other hand stayed on a tightening cycle in the first half of 2014, which saw the benchmark interest rate being hiked to 3.5% from 2.5% but the RBNZ has been holding rates since the July move.
The NZ central bank will next meet on 11 June to review the policy and the market sees the Australian move will encourage the RBNZ to convert the recent dovish rhetoric to action next month.
The RBNZ said in the April 29 policy review that it would be appropriate to lower the OCR if demand weakens, and wage and price-setting outcomes settle at levels lower than is consistent with the inflation target.
It was that statement which pushed the Kiwi dollar off the three-month high of 0.7745, it was then holding. Over the last two sessions, the currency was supported but the jobs data on Wednesday took it to a new low.
The market is now waiting for the US labour data due on Friday and the UK general election scheduled for Thursday.