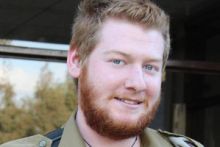 A newspaper has apologised after mistakenly printing a photograph of Jackass star Ryan Dunn on its front page to accompany a story about a New Zealand-born Israeli soldier killed in Gaza.
Sgt Guy Boyland, 21, who was born in the New Zealand town of Taupo but moved to Israel as a child, was killed by Hamas gunmen in the Gaza strip on 25 July.
However, on its front page splash covering the story about his death, the New Zealand Herald accidently printed a picture of the MTV star who was killed in a car crash in 2011 to accompany the story.
The paper has since issued an apology "unreservedly" to the family and friends of Boyland for incorrectly using two photographs of Dunn both in print and online.
Shayne Currie, editor of the New Zeland Herald, said both he and Jane Hastng, CEO of publishing company APN, have personally spoken to Boyland's family following the mix-up.
He added: "The family members have been remarkably forgiving, particularly in the circumstances. I have apologised for adding to their grief and I will keep them fully updated on how this happened as obviously it is unacceptable.
"We are currently looking into what checks were made regarding the two images, with a view to ensuring procedures are reviewed to ensure that there is no repeat of this [type of] error in the future."
Currie said the paper had taken the photos off Boyland's Facebook page after he had posted several images of Dunn following his death in 2011 and believed them to be of Boyland.
"I would like to reiterate how seriously we are taking this error and apologise again," Currie added. "I would also like to apologise to our readers -- the public trust us to get it right, and we must make sure that this does not happen again."
Boyland's Israeli aunt Rotem Gofar described him as an "amazing child".
"He was brave and a fighter who loved the army. There are no words to describe the grief and the loss," she told Israeli news site ynetnews.com.
Dunn, 34, died in 2011 after crashing his Porsche while speeding in Pennsylvania.